Gulf Coast Hot Air Balloon Festival
May 7-9, Select Times
Downtown OWA, The Park at OWA
For the first time in 16 years, the Gulf Coast Hot Air Balloon Festival has a new home — and it's right here at OWA!
Save these images to your phone for easy access to your next adventure!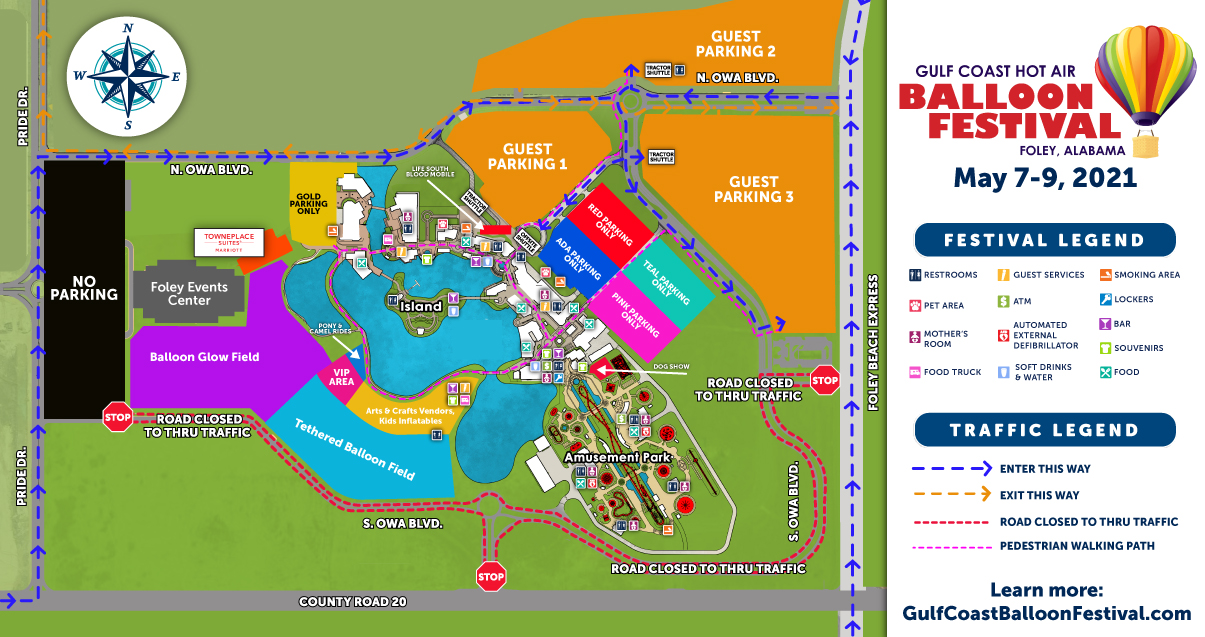 OWA is the spot for high-flying adventure and family fun at the Gulf Coast Hot Air Balloon Festival. Enjoy a day of entertainment, arts and crafts displays, braving the thrills of OWA's amusement park rides and more art the festival site daily! Balloon glows and tethered rides (weather permitting) add to the fun at dusk.
It all begins on the evening of Thursday, May 6 with a balloon glow and continues through Sunday, May 9. Live entertainment offerings include: The Voice's Kirk Jay, comedian Brad Tassell, singer songwriters Molly Thomas & The Rare Birds, Tobacco Road Band, B Street Benny from New Orleans, Roman Street, Magnolia Dance Company, and a sneak peek from the cast of Legends In Concert "Celebrate Vegas"!
Which activities are free?

This is a free festival that is open to the public, however a limited number of ticketed items are available on a first-come, first-serve basis. Day passes to The Park at OWA may be purchased online or at the Admission window.
When do balloons fly?

Balloons fly early in the morning (around dawn) and late in the afternoon (around dusk). All flights are weather dependent. Balloons can only fly in perfect weather, including wind speeds of 7mph and less. See the full schedule for this year's planned flight times.
Can I ride in the balloons?

Tethered balloon rides have sold out online. There will be limited tickets available for purchase at the festival beginning at 6pm May 7-9th.
Where should we park?

General parking at OWA is FREE for all guests. Paved onsite parking is available, as well as overflow parking on the fields located at OWA. Handicap parking is FREE and you MUST have a valid handicap parking sign.
Do you offer shuttle service from the Tanger Outlets?

Shuttle service is available for $2 round trip at Tanger Outlets behind the Nike Outlet (2601 S. McKenzie St, Foley, AL 36535) between 2 p.m. and 10 p.m. on Friday and Saturday. Shuttle charge is $2 per person; round trip. Children 12 and under ride free. You will pay once you arrive at the festival grounds. Park your car and enjoy the ride!
How long do the tractor shuttles run from Guest Parking Lots to the Festival?

The tractor shuttles from the Guest Parking Lots (see Map) run from the beginning of the festival until dusk. After dusk, please board the shuttle bus at the OWA main entrance. The shuttle buss will transport guests to the grass parking lot areas
Can I bring my pet to the festival?

Pets are not allowed on the festival grounds. Pets on leashed are allowed in Downtown OWA. Potty stations can be located on the event map.
Is smoking allowed at the festival?

Smoking is not allowed on the festival grounds. Designated smoking areas in The Park at OWA and Downtown OWA can be located on the event map.
Can we bring our own chairs and tents to the festival?

You can bring your own chairs and umbrellas to the festival, but no tents are permitted on festival grounds.
Can we bring a cooler/snacks/drinks?

We apologize, but outside food and drink are prohibited. Downtown OWA features an array of fabulous restaurants, as well as a variety of food trucks and other vendors will be located on the festival grounds and throughout Downtown.
Where can I learn more?

More FAQs are available at the official site for the Gulf Coast Hot Air Balloon festival!
Please check out our enhanced health and safety guidelines and get ready for a weekend of family fun at the 17th Annual Gulf Coast Hot Air Balloon Festival!