Featuring a lineup of ever-changing acts and shows, from family-friendly to date night, the quick-witted Brandon Styles will have you doubling over in your chair.
Watch as he wows you with spot-on impressions, mind-blowing magic and perfectly timed comedic bits. Placing top six in the world for close-up magic from the International Brotherhood of Magicians, the largest magic competition in the world, now is your chance to see him perform live at OWA! Plus with the help of his fabulous assistants, wife and daughter Diamond and Baylee, this truly is a family affair.
The Brandon Styles Theater is also home to Gulf Coast Comedy Fest, Murder Mystery Dinner Shows, and more! Outfitted with concert lighting, sound systems, projection, and perfect sightlines to the stage, The Brandon Styles Theater is designed and built as the ultimate performance space to view awe-inspiring shows. With 130 seats, this intimacy creates a performance experience that is unequaled. Pick your show & grab a ticket!
Enjoy exclusive discounts to participating Downtown OWA restaurants when you buy tickets for a Brandon Styles show! *These offers will be emailed to you promptly following your ticket booking.
2021 Best of Baldwin Accolade - Best Theater

Discover the many faces of Brandon Styles in this year-round Variety Show including impressions ranging from Frank Sinatra to Justin Bieber, with 60 additional impressions in between! Sprinkled with just the right amount of comedy and magic to make this a great entertainment hour for all ages.
Every Tuesday & Saturday at 7pm.

Brandon Styles has combined big magic, little magic and funny magic to amaze and astound you, make you laugh, and make you wonder. Audience interaction and props create a fun, upbeat amusement for the whole family.
Select Wednesdays at 7pm.

Stoked Comedy Hypnosis Show
Join legendary hypnotist Terry Stokes for 60 minutes of hilarious antics and unbelievable hypnotism at the Stoked Comedy Hypnosis Show for all-ages. One of the few shows where the audience is the "stars" of the show, this unforgettable show is your opportunity to see or be seen! The kids will love watching parents and grandparents on the stage!
Select Fridays at 7pm

Trip Down Memory Lane Dinner Show
Enjoy a delectable plated dinner followed by an up-close & personal show that will take you and your date on a trip down memory lane as Brandon Styles magically changes his voice while singing nearly 40 classic artists from 1950-1970! Just to name a few, you'll hear Frank Sinatra, Tony Bennett, Neil Diamond, and Louis Armstrong.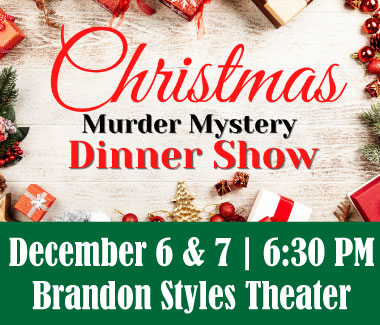 Coming December 6 & 7, this family entertainment features actors in a live, interactive, and comedic experience with audience members as they work to solve the "murder" through physical clues, spoken dialogue, and inferred character motives.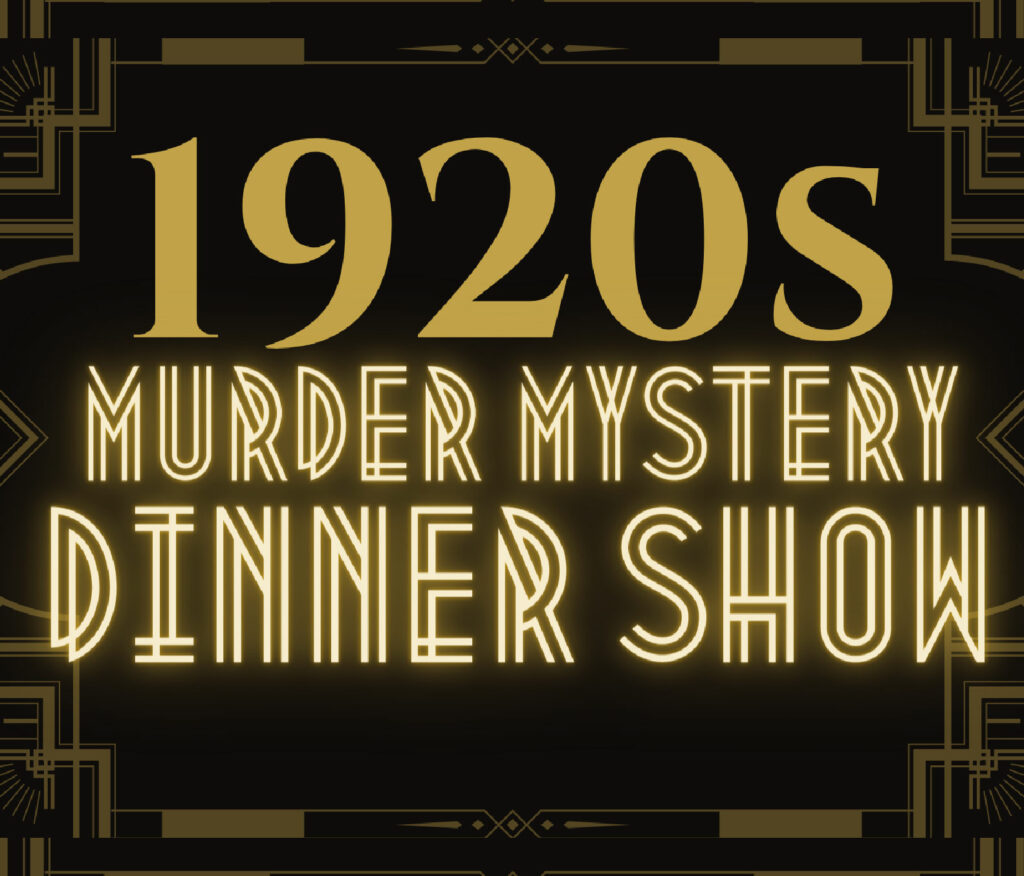 A 1920s Murder Mystery Dinner Show – Jan 11 & 12 at 6:30pm. Experience a delicious dinner with a close-up show in a 1920's Speakeasy.