Stop by and spend an hour (or three!) playing today's newest and most exclusive games.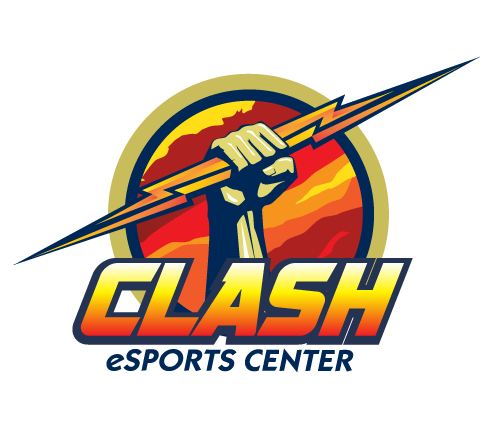 Open 12pm to 8pm Daily
This brand new addition is for kids and adults alike who enjoy video games, spending time with friends, and battling it out for the highest score on the best equipment. Join us for Super Smash Bros. Tournaments and Themed Gaming Days!
Clash eSports Center is open 7 days a week Downtown OWA at 12pm. Check out our full list of games by scrolling down. Choose from our top-of-the-line PCs, PS4s, Nintendo Switches, and Xboxes — all available by the hour. Prices below.
Stop by and spend an hour (or three!) playing today's newest and most exclusive games, such as Mortal Kombat 11 (released in 2019), Sims 4 (with all DLC and expansion packs), Far Cry New Dawn (released in 2019), plus your favorites like Overwatch, Dragon Ball FighterZ, PUBG and more. We update our games list on a regular basis and stay on top of release dates to get you the newest games. "Playtime" can be purchased in person at Clash eSports Center by the hour. All equipment is provided, with premium controllers available with an upcharge. Everyone under 13 years of age must be accompanied by an adult or guardian.
Find us at:
(251) 257-1400
200-C N OWA Blvd
Foley, Alabama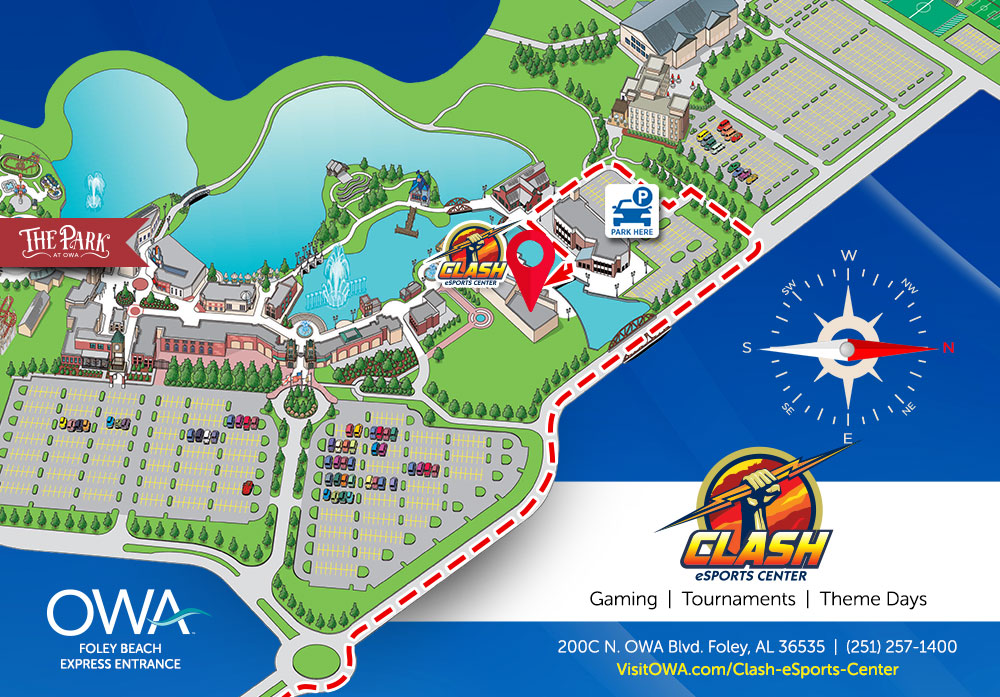 Game List
PC Games

Apex Legends
BioShock 2 Remastered
BioShock Infinite
BioShock Remastered
Counter Strike: Global Offensive
Diablo III
Dota 2
Elder Scrolls Online: Elsweyr
EVE Online
Fortnite
Hearthstone
Heroes of the Storm
League of Legends
Minecraft (Java)
Overwatch
Playerunknown's Battlegrounds
Quake Champions
Rocket League
Sims 4
Smite
Starcraft II
Starcraft Remastered
Street Fighter V
Tom Clancy's Rainbow Six Siege
World of Tanks NA
World of Warcraft
Xbox One Games

Madden 2019
NHL 2019
NBA 2K19
FIFA 19
Apex Legends
Dragonball Fighter Z
Fortnite
Gears of War 4
Halo 5
Halo: The Master Chief Collection
Injustice 2
Jump Force
Mortal Kombat 11
Tekken 7
Ultimate Marvel vs Capcom 3
PS4 Games

Apex Legends
Battlefield 5
Fortnite
God of War
Gran Turismo Sport
Grand Theft Auto V
Horizon Zero Dawn
Just Cause 4
Persona 5
Rage 2
Red Dead Redemption 2
Resident Evil 2
Sonic Mania
Spiderman
The Last of Us Remastered
Nintendo Switch Games

Mario Kart 8 Deluxe
Pokken DX
Splatoon 2
Super Smash Bros. Ultimate
Pricing
PS4s and PCs / Desk Area 💻
| | |
| --- | --- |
| 1 hour | $8.00 |
| 2 hours | $16.00 |
| 3 hours | $20.00 |
Xbox Ones and Nintendo Switches / Living Room Setup 🎮
| | | | | |
| --- | --- | --- | --- | --- |
| | 1 player | 2 players | 3 players | 4 players |
| 1 hour | $15.00 | $23.00 | $30.00 | $33.00 |
| 2 hours | $30.00 | $46.00 | $51.00 | $66.00 |
| 3 hours | $36.00 | $51.00 | $57.00 | $72.00 |
Only available for purchase in person. These are the prices for the full bundle. Not per player.
Clash policies and guidelines
Guest must follow all posted and verbal instructions provided by Clash staff.
Do not use profanity or engage in unsafe, illegal, or offensive behavior.
Clash staff reserve the right to temporarily close for the purposes of maintenance or private events without prior notice or any compensation.
Guests should not leave any valuables or personal belongings unattended. Clash is not responsible or liable for any lost, stolen, or damaged property.
Smoking or vaping is not permitted in the store.
No outside food or beverage allowed in store.
No pets allowed except for service animals.
No firearms or weapons permitted on Clash property.
Respectful attire must be worn at all times and Clash staff reserve the right to refuse service or expel guests with unacceptable attire.
Clash staff reserve the right to eject any guest that in our opinion, may pose a risk to the safety of other guests and/or affect their enjoyment within Clash property.
All guests entering Clash property are subject to the policies and guidelines as set forth by Clash staff.
No soliciting
Children under the age of 13 must be accompanied by a legal guardian or adult at all times while on Clash property.
Additional revisions can be made upon the policies and procedures without any notice.