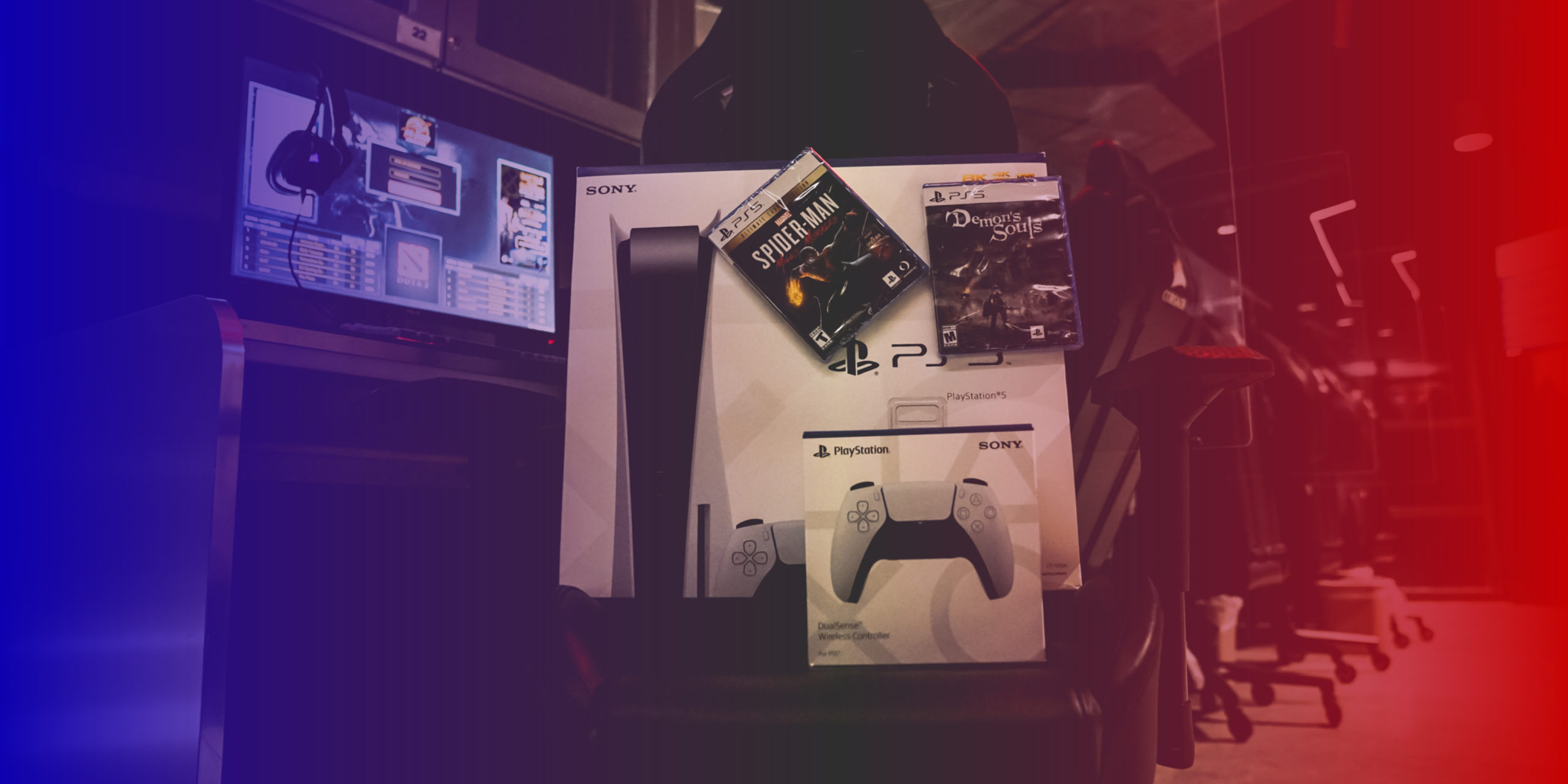 PlayStation 5 Giveaway Official Rules
NO PURCHASE IS NECESSARY TO ENTER OR WIN.
EACH WINNER MAY BE REQUIRED TO PARTICIPATE IN A PRIZE FULFILLMENT PROCESS, SIGN DOCUMENTATION, SUCH AS A RELEASE, AND POSE FOR ONE OR MORE PICTURES, AS MORE FULLY DETAILED BELOW.
BY PARTICIPATING IN THE PROMOTION (DEFINED BELOW), YOU (THE CONTESTANT) AGREE TO THESE OFFICIAL RULES, WHICH IS A CONTRACT. THIS CONTRACT INCLUDES, AMONG OTHER TERMS, A LIMITATION OF YOUR RIGHTS AND REMEDIES. AS MORE FULLY DETAILED BELOW. YOU (THE CONTESTANT) AGREE THAT ALL DISPUTES ASSOCIATED WITH The PROMOTION WILL BE DECIDED BY MANDATORY ARBITRATION, AS SET FORTH BELOW.
1. Description of Promotion; Promotion Period. The Playstation5 Giveaway Promotion (the "Promotion") consists of on premises promotion held at the Clash eSports Center at OWA that begins at 11:00 AM (Central) on March 1, 2021, and ends no later than 9:00 PM (Central) on March 31, 2021 ("Promotion Period"). The exact start and end of the Promotion Period shall be determined by OWA SPORTS & GAMES LLC, an Alabama limited liability company (the "Sponsor"). Entries are only redeemable during the Promotion Period, and not before or after the Promotion Period. The Promotion is governed by these Official Rules.
2. Eligibility to Play/Win: The Promotion is open only to those contestants who are 16 years of age or older as of March 1, 2021. The promotion is only open to legal residents of the United States of America. Current or former employees, family members, agents, successors, or assignees of Sponsor or any promotional agency involved with this Promotion or Clash eSports Center or OWA shall be ineligible to participate and/or claim any reimbursable prize within. The Promotion is subject to all applicable federal, state, Tribal and local laws and regulations. Void where prohibited. A prize winning play by a contestant is subject to verification by the Sponsor.
The random number generator ("RNG") and memory logs of the prize slot software are the sole determiners of whether or not a contestant is a grand prize winner. A prize cannot be won as a result of any other scenario, including but not limited to human error, software error, or machine malfunction. If for any reason, Sponsor deems a contestant does not meet its requirements for winning the grand prize, Sponsor is not responsible for the fulfillment of said prize.
In addition to all the other requirements of these Official Rules, an authorized Sponsor representative must be present and watching for a contestant to win. It is the contestant's responsibility to make sure that an authorized Sponsor representative is present and watching during any play.
3. Agreement to Rules: By participating, contestant agrees to be fully and unconditionally bound by these Official Rules, and by participating a contestant is representing and warranting that he/she meets all the eligibility requirements set forth in these Official Rules. Further, by participating, contestant agrees to accept the decisions of Sponsor as final and binding as it relates to the Promotion. BY PARTICIPATING, CONTESTANT AGREES TO THESE OFFICIAL RULES, WHICH IS A CONTRACT.
4. How to Participate: No purchase necessary to play. An eligible person may receive (one) complimentary entry. A contestant can earn additional entries for each hour that is purchased on any gaming computer, gaming console, or virtual reality system at Clash eSports.
5. Prizes: The Grand Prize is a Playstation 5 Bundle, which includes the Playsation 5, an extra controller and two Playstation 5 games. Prizes may be subject to taxes.

6. Odds of Winning: Odds of winning are dependent on how many entries are contained in the Promotion and how many entries a contestant has in the Promotion.
7. Winner selection and notification: Subject to these Official Rules, one person will be randomly selected from all entries to win the Playstation 5. By participating, contestant agrees to any and all requirements and certifications required by Sponsor are valid. Such verification may take time and documentation. Other secondary prizes will be awarded the day of the Promotion.
ANY VIOLATION OF THESE OFFICIAL RULES BY ANY CONTESTANT (AS DETERMINED BY SPONSOR'S SOLE DISCRETION) MAY RESULT IN SUCH CONTESTANT'S BEING DISQUALIFIED AS A WINNER OF THE PROMOTION OR BEING DISQUALIFIED AS ELIGABLE TO WIN.
8. Image; Publicity: By participating in the Promotion, contestant understands that Sponsor and Sponsor's affiliates will have the right, where permitted by law, without any further notice, review or consent to print, publish, broadcast, distribute, and use, worldwide in any media now known or hereafter in perpetuity and throughout the World, your name, likeness, voice, picture and image, including, without limitation, biographical information as news, publicity or information and for trade, advertising, public relations and promotional purposes without any further compensation. Without limiting the foregoing, names and likenesses of Promotion winner(s) may be used by Sponsor for promotional purposes without further compensation, consent, or authorization. By participating in the Promotion, contestant grants a right to Sponsor to use contestant's likeness and image.
9. Miscellaneous Terms: Sponsor reserves the right, in its sole discretion, to cancel, terminate, modify or suspend the Promotion should (as determined by Sponsor) a virus, bug, non-authorized human intervention, fraud or other causes beyond Sponsor's control corrupt or affect the Promotion equipment, software, RNG, administration, security, perceived fairness or proper conduct of the Promotion. Sponsor reserves the right, at its sole discretion, to disqualify any contestant (even if they are a "winner") who Sponsor suspects may have tampered or attempted to tamper with the Promotion process or the Sponsor's operation of the Promotion or who violates these Official Rules. Sponsor retains the right, in its sole discretion, to maintain the integrity of the Promotion, to void entries for any reason. If Sponsor believes that a third party is acting in concert with a contestant to undermine the Promotion, or violate these rules, then Sponsor may disqualify such contestant for the actions done by the third party.

By playing the Promotion, contestant agrees to receive email newsletters periodically from Sponsor. Contestant may opt-out of receiving the electronic communications at any time by clicking the unsubscribe link in the newsletter.
10. Limitation of Liability: By participating in the Promotion, contestant agrees to release and hold harmless Sponsor and its respective representatives, agents, successors, assigns, employees, officers and directors from any liability, illness, injury, death, loss, claim or damage that may occur, directly or indirectly, whether caused by negligence or not, from (i) such contestant's participation in the Promotion or his/her acceptance, possession, use, or misuse of any prize or any portion thereof, (ii) technical failures of any kind, including but not limited to the malfunctioning of any equipment, RNG, computer, cable, network, hardware, or software; (iii) the unavailability or inaccessibility of any transmissions or telephone or Internet service; (iv) unauthorized human intervention in any part of the Promotion; (v) electronic or human error which may occur in the administration of the Promotion and (vi) acts of God.
Without limiting the generality of the foregoing, by participating in the Promotion each contestant hereby releases and agrees to hold the Sponsor and its affiliates harmless from and against any and all costs, injuries, losses or damages of any kind, including, without limitation, property damage, death and bodily injury (whether due to negligence or otherwise), due in whole or in part, directly or indirectly, to participation in the Promotion, or the receipt, use or misuse of any prize.
11. Disputes; Other Terms: As a condition of participating in this Promotion, contestant agrees that any and all disputes which cannot be resolved between Sponsor and contestant informally and amicably, and any causes of action arising out of or connected with this Promotion, shall be resolved exclusively by mandatory arbitration in Baldwin County, Alabama, before a single arbitrator. The arbitration shall be administered by JAMS pursuant to JAMS' Streamlined Arbitration Rules and Procedures. Judgment on the Award may be entered in any court having jurisdiction. This clause shall not preclude parties from seeking provisional remedies in aid of arbitration from a court of appropriate jurisdiction. By participating in the Promotion, contestant agrees to arbitration with regard to any disputes related to or arising directly or indirectly from the Promotion, and contestant consents to said arbitration. Further, in any such dispute, under no circumstances will contestant be permitted to obtain awards for, and contestant hereby waives all rights to claim punitive, incidental, or consequential damages. TO THE FULLEST EXTENT ALLOWED BY APPLICABLE LAW, BY PARTICIPATING IN THE PROMOTION, CONTESTANT WAIVES HIS/HER RIGHT TO A TRIAL BY A JURY WITH REGARD TO ANY DISPUTES RELATED TO OR ARISING DIRECTLY OR INDIRECTLY FROM THE PROMOTION. In case any one or more of the provisions contained in these Official Rules shall for any reason be held to be invalid, illegal or unenforceable in any respect, such invalidity, illegality or unenforceability shall not affect any other provision hereof, and these Official Rules shall be construed as if such invalid, illegal or unenforceable provision had never been contained herein.