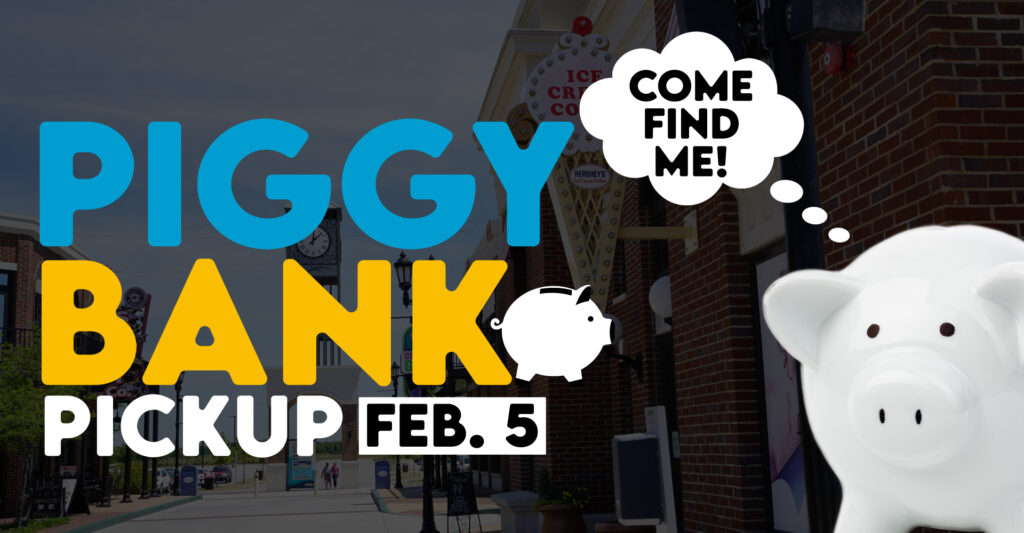 Cash prizes + theme park tickets + OWA swag! The hunt is on for piggy banks hidden throughout OWA.
Did you run out of Christmas cash already? Pad your pockets at our free "dash for the cash" scavenger hunt on Saturday, February 5. Real piggy banks will be hidden throughout The Park and Downtown OWA. Join us from 2-5pm and get that money!
Each piggy bank will have a different kind of prize voucher hidden inside. Prizes include: cash, theme park tickets or OWA swag. Piggy banks can be redeemed at the Guest Services Center located near the Downtown OWA Splash Pad and OWA main entrance. Redemption period is between 2-5pm.
Your safety is of utmost importance. Please DO NOT look for piggy banks in ride paths or behind gates. We will NOT hide piggy banks in these areas where guests are not permitted to enter. Any violation of our rules and regulations will result in expulsion from the OWA grounds.
*Limit one piggy bank per person. 
Rules & Regulations "Piggy Bank Pick Up
How to Enter
Guests must register to participate at the Guest Services Center in Downtown OWA, near the Splashpad. If Registrant is under the age of 13, parental consent must be provided.
Pre-Registration will begin at 1:30pm and end at 2:30pm
At the time of registration, participants must complete an information card with name, email, and phone number to be considered eligible. All personal information will be deleted after the Hunt and personal information is not shared with third parties
Once registration is received, a Team Member will provide a sticker to indicate participant is eligible. The participant will also be given an area map with suggestions on locations of hidden pigs.
Prizes
One Piggy Bank per person
While supplies last (50 piggy banks)
Registered participants must redeem piggy bank at guest relations desk near Splash Pad in Downtown OWA.
Prize breakdown is as follows:

2 prizes of $100 cash
6 prizes of $50 cash
20 prizes of (2) theme park tickets valued at $53.00 per set
10 prizes of $25 cash
10 prizes of OWA merchandise swag bags valued at $20.00 each

Consolation prizes will be given to any eligible participant who is registered, but not able to find a piggy bank. The consolation prize will consist of an OWA merchandise prize valued at $10.00.
Rules
Start time: Hunt will begin at 2:00pm and end at 5:00pm or until all piggy banks are found
End Time: A notification on social media will be announced when all piggy banks are found. If any piggy banks remain after the ending at 5:00pm, they will be removed by an OWA Team Member and the prize will be void.
Redemption: Eligible registered guests may redeem their piggy bank at Guest Services located next to the Downtown OWA Splash Pad between 2:00pm until 5:00pm on Saturday, February 5. If piggy banks are not redeemed before 5:00pm at this location, participate agrees to forfeit the prize.
Prizes are non-transferrable and must be redeemed by the guest who registered to participate in the piggy bank hunt.
OWA Team Members and their immediate family members are not eligible to participate.
Pigs will NOT be hidden in the following areas. Participants who have been found crossing into these restricted areas will be immediately disqualified.
Amusement Park Ride Paths
Behind locked, secured, or closed gates
Inside locked buildings
Around or in waterways
Behind restricted employee areas