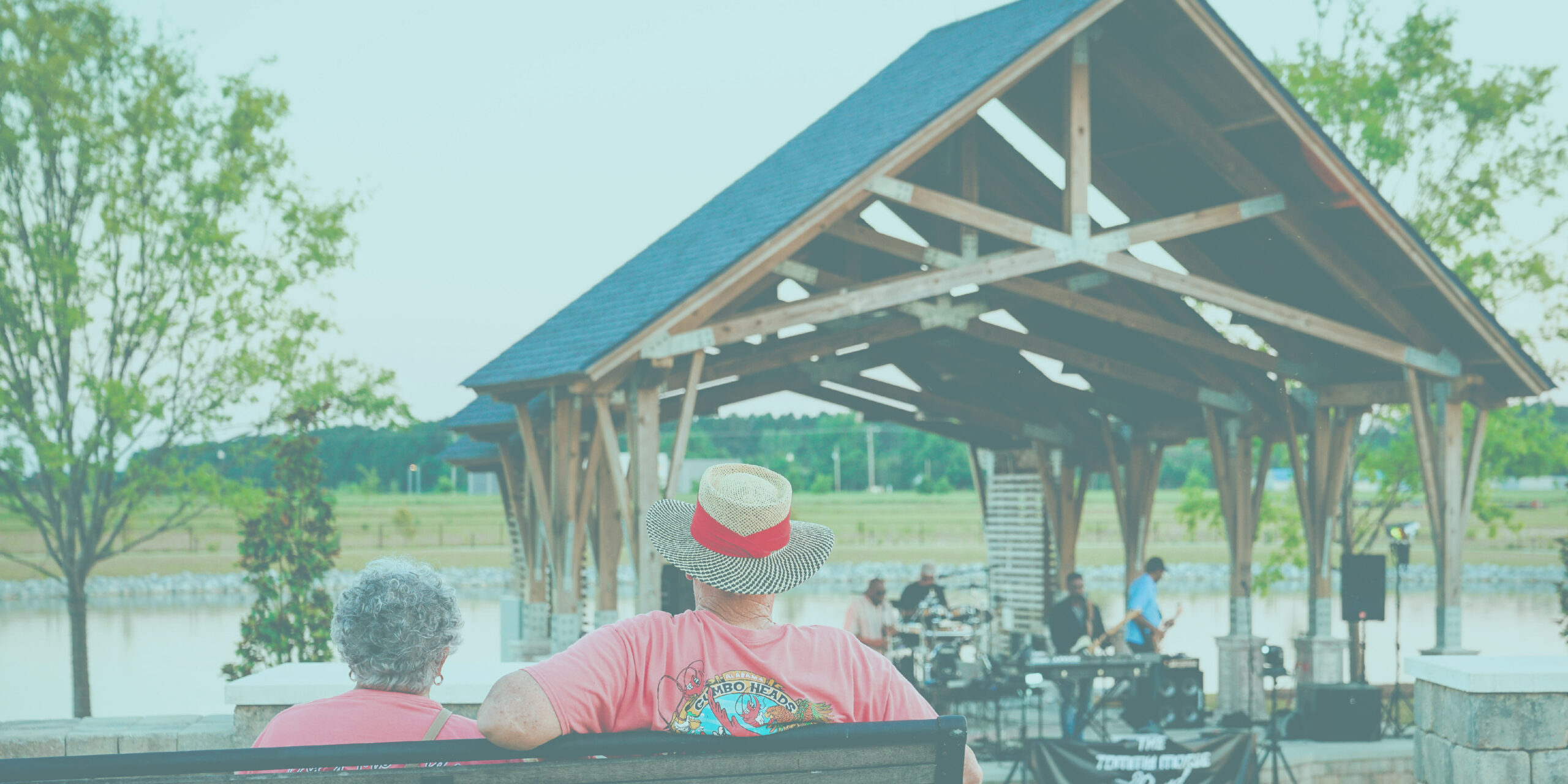 OWA Live — July Concert Series — July 24
Join us for OWA Live with free musical performances from The Red Clay Strays and Sugarcane Jane on Saturday, July 24 starting at 5:30pm!
Saturday, July 24
Are you ready for our hottest music series yet? July 17th, 24th and 31st from 5:30-10pm, you can catch free, live music on the OWA Island from regional and local musicians and favorites like The Tip Tops, Red Clay Strays, Miles Flatt Band, Sugarcane Jane and more! Top your summer off with OWA Live, the last three Saturdays in July. Each weekend will feature different genres. From high energy country music, to folk, rockabilly and soul, OWA Live is just what the doctor ordered.
Starting at 5:30pm on Saturday, July 24, folk country duo Sugarcane Jane will croon two one-hour sets for us followed by a live performance from regional rockabilly group the Red Clay Strays.
Learn more about our artists for OWA Live on Saturday, July 24.
---
The Red Clay Strays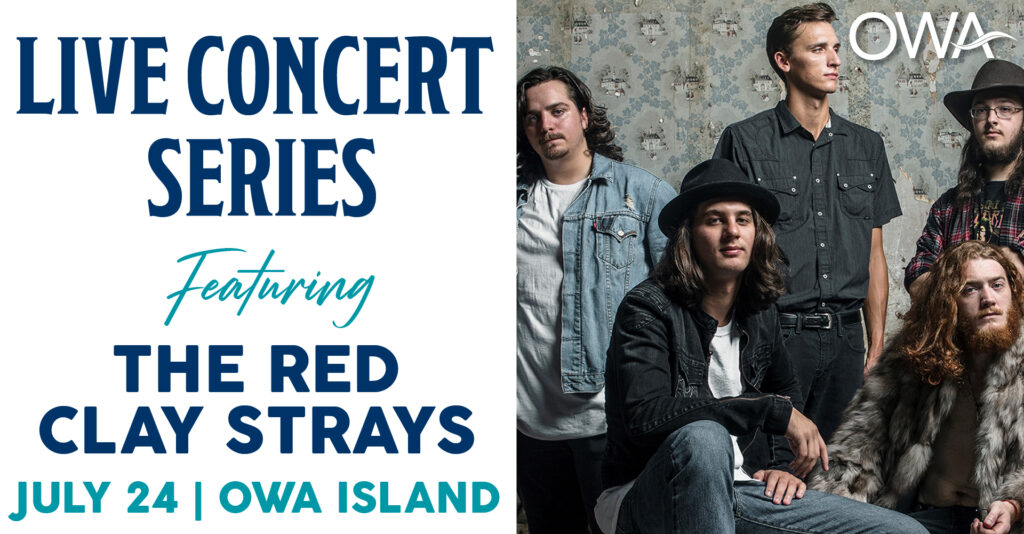 "From the far reaches of rural south Alabama, The Red Clay Strays claim their unique sound with a humble confidence that can only come from their upbringing. This band, on stage and off, reminds you of southern music's heyday and gives you hope that it may not have lost its way after all. Growing up listening to gospel along with artists such as Waylon Jennings, The Eagles, and the Allman Brothers, their wide range of influences create a combined style of the country music and southern rock we've all been waiting for. Lead Singer, Brandon Coleman, with vocals that bring to mind young Elvis, is the heart of their high energy show along with Drew Nix on rhythm guitar, Zach Rishel on lead, Andrew Bishop on bass and John Hall on drums."
---
Sugarcane Jane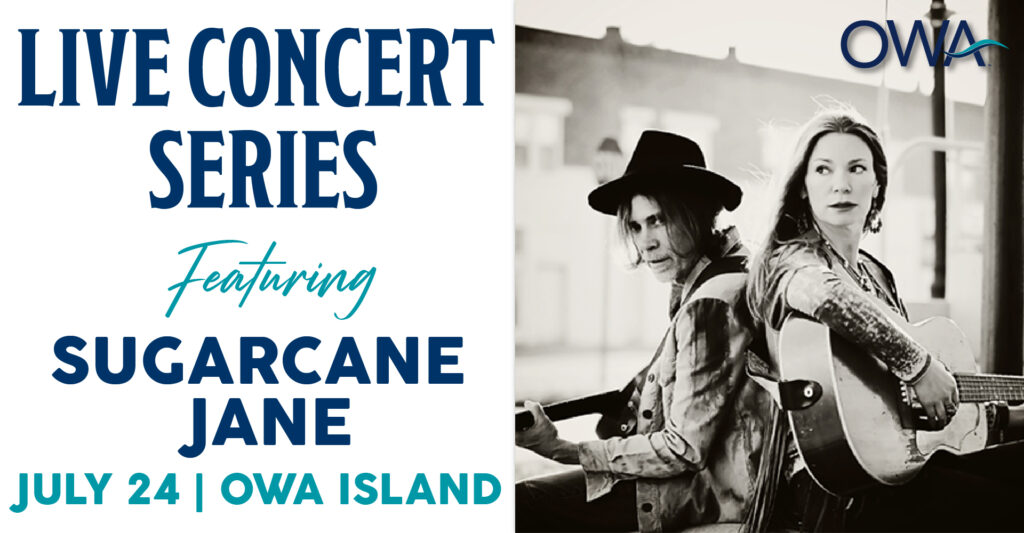 "Sugarcane Jane, otherwise known as Anthony Crawford and Savana Lee from Loxley, Alabama — have been Americana's husband-wife duo from Alabama's Gulf Coast for over a decade. Between them, they have amassed a rich musical heritage working with such notables as Neil Young, Steve Winwood, and Dwight Yoakam. The music they make together is simple and direct, rooted in country and rock, and anchored by their sweet and soulful harmonies.
To know the couple's roots is important in understanding the foundation of the duo's incredible story. Anthony's musical career has lead him all over the world beginning at Opryland at the age of eighteen to performing at the Grand Ole Opry with Roy Acuff, to being on tour with Sonny James, Neil Young (The Shocking Pinks, The International Harvesters, The Electric Band), then Steve Winwood (Roll With It Tour), Vince Gill, and Dwight Yoakam. He's had appearances on Hee Haw, Austin City Limits, Live Aid, Farm Aid, Showtime, the Late Show with David Letter- man, the Tonight Show with Jay Leno, the Today Show, Grammy Awards Show, made music videos (Wonderin-Neil Young, Gone-Dwight Yoakam), been in movies (Heart of Gold-Neil Young, Neil Young Trunk Show, Blackhawk DVD). He's played on stage with Paul McCartney with Neil Young at Hyde Park. He took the cover photo for Neil Young's Chrome Dreams II al- bum. His songs have been recorded by Steve Winwood, Dwight Yoakam, Kenny Rogers, The Nitty Gritty Dirt Band, The Oak Ridge Boys, Lorrie Morgan, Billy Burnett, Sawyer Brown, and others.
"One of the liveliest, most engaging Americana CDs you're likely to hear this or any year." (Vintage Guitar Magazine)
The last decade has been an intricate part of Anthony's ultimate direction. After marrying musi- cal partner Savana Lee and settling down in the rural southern Alabama town of Loxley, a whole new perspective has emerged in their songwriting as well as touring life. They have grown a loyal following and an all American brand of music completely orginal and homegrown rooted from a southern spirit of the deep South.
FAQ
Are blankets allowed?

Yes, blankets and towels are allowed.
Are folding chairs allowed?

Yes, a limited number of folding chairs are allowed only in designated locations as directed by an OWA employee upon arrival.
Are pets allowed on a leash?

Yes, leashed pets are allowed.
May I bring a cooler or picnic basket with food and drink?

Coolers or outside food are not permitted, however food or drink purchased from any onsite OWA restaurant will be allowed.
Can I purchase alcoholic beverages on the island?

While alcoholic beverages are not available for purchase on the Island at this time, OWA restaurants are permitted to sell alcoholic beverages to patrons who are 21 & older (with valid ID) which can then be consumed on the Island. OWA's entertainment District allows patrons to enjoy the Downtown OWA area, including the Island, with their alcoholic beverages as long as they keep the beverage in the cup provided by the restaurant at time of purchase.
Do you have designated seating available for guests with a disability?

Yes, designated ADA-accessible seating will be available. See an OWA employee for assistance upon arrival.