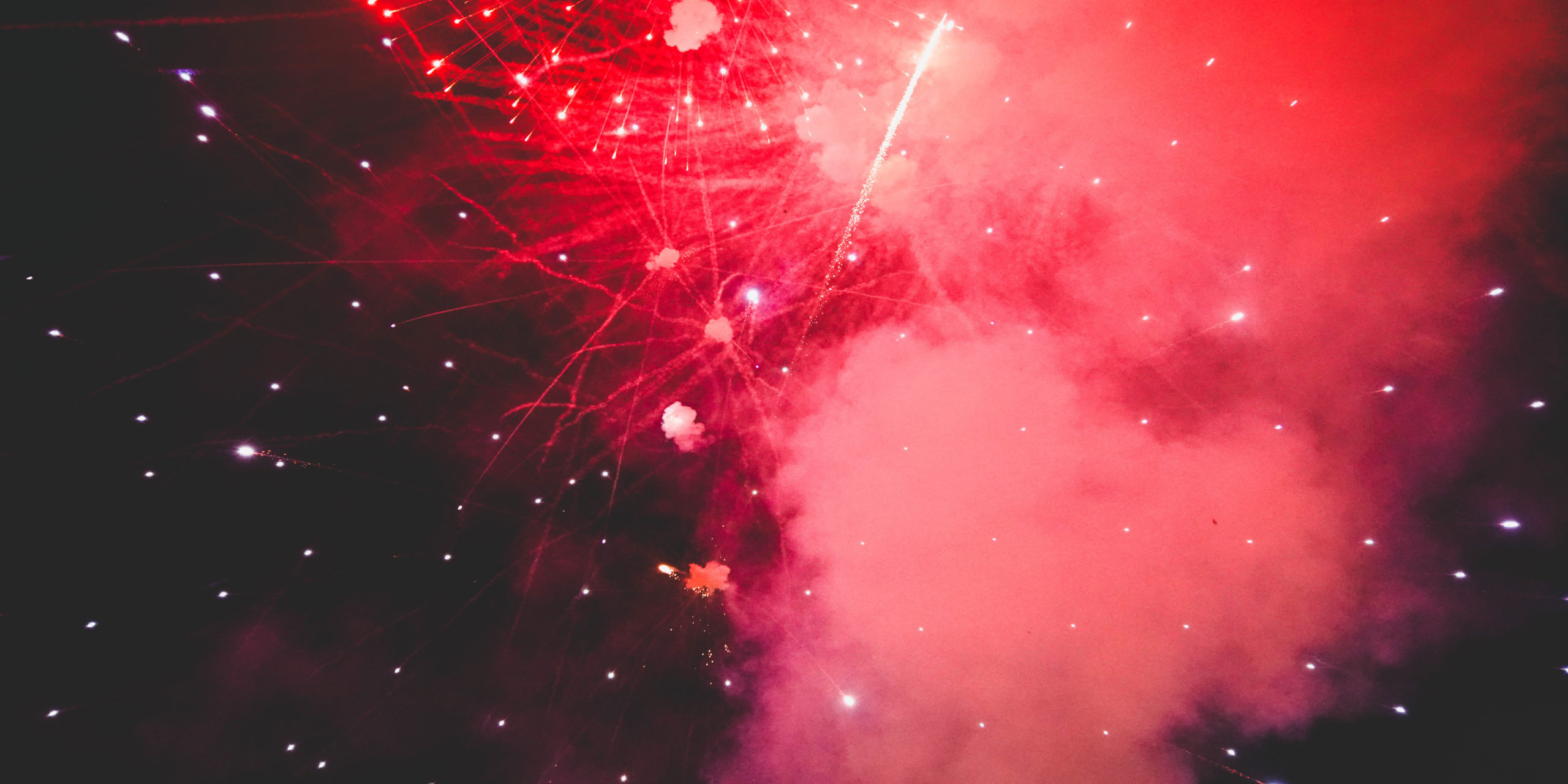 4th of July Weekend Celebration
OWA's 4th of July Weekend Celebration is back and bigger than ever before!
Whether you want to spend a day, or spend a long weekend with us, we've got you covered this 4th of July. Join us for our inaugural patriotic walking parade led by a 70-piece marching band and our biggest, best firework show yet!
We'll be celebrating Independence Day all weekend long at OWA with family-friendly activities and live music from Wes Loper Band, the Troy Laz Band and more. This is a free event that is open to the public.
Celebrate with a fun day in the streets of Downtown OWA and grab a delicious lunch. Want a little more thrill in your Independence Day adventure? Hop inside The Park at OWA and scream your heart out on Rollin' Thunder, or take advantage of our Non-Rider Ticket and simply enjoy the view!
July 4
Celebrate Independence Day with us at OWA! Patriotic fireworks will cover the night sky after a day of family-friendly activities. New for 2021, we'll host our inaugural 4th of July Street Parade led by Southwinds – a 70-piece marching band from Mobile, Alabama!
Parade
Join in the parade in your best-dressed gear to celebrate Independence Day and get a chance to win cash prizes! A small $10 donation to Operation Reconnect registers you for our walking parade and enters you in our costume contest, so dress in your patriotic best!
Southwinds band will then continue to perform patriotic pieces with horns, drum and color guard! You can also catch our friends Uncle Sam and Rosie the Riveter in the parade and later in the amusement park.
Entertainment
Stick around on the OWA Island for free live music from the Bruce Smelley Band followed by the Troy Laz Band! All of this leads up to our biggest, longest and best firework show yet here at OWA! Snag a free pair of 3D glasses from Guest Services or an OWA Information booth while supplies last. There are also two free showings of Wonder that evening.
• Downtown OWA shopping, dining and entertainment
• The Park at OWA opens at noon
• Patriotic Kids Crafts + Scavenger Hunt
-Sky Balloons in The Park at OWA
-Next to Clash eSports Center
-OWA Island
-Downtown OWA Splash Pad
• DJ on the OWA Island Stage
• Parade Registration begins at 1pm on the OWA Island Stage (cash only or pre-register online)
• Inaugural Patriotic Street Parade begins at the OWA Island at 2pm led by Southwinds' 70-piece marching band from Mobile, Alabama. Participants can pre-register online. All proceeds benefit Operation Reconnect.
• Following the parade, the Southwinds marching band will continue their live patriotic performances featuring horns, drums and color guard.
• Patriotic Costume Contest at 2:30pm on the OWA Island Stage with CASH PRIZES!
OWA Choice
Best Team Costume
Most Creative
Most Patriotic
• Photos with Uncle Sam and Rosie the Riveter just past the lockers inside the front entrance to the amusement park!
• Live music starts at 4:30pm on the OWA Island ft. the Bruce Smelley Band and the Troy Laz Band!
• Our biggest and longest FIREWORKS show yet will take place at 8:45pm over the entire OWA property.
Can't make it? Join us Live on Facebook and YouTube to catch the show!
Map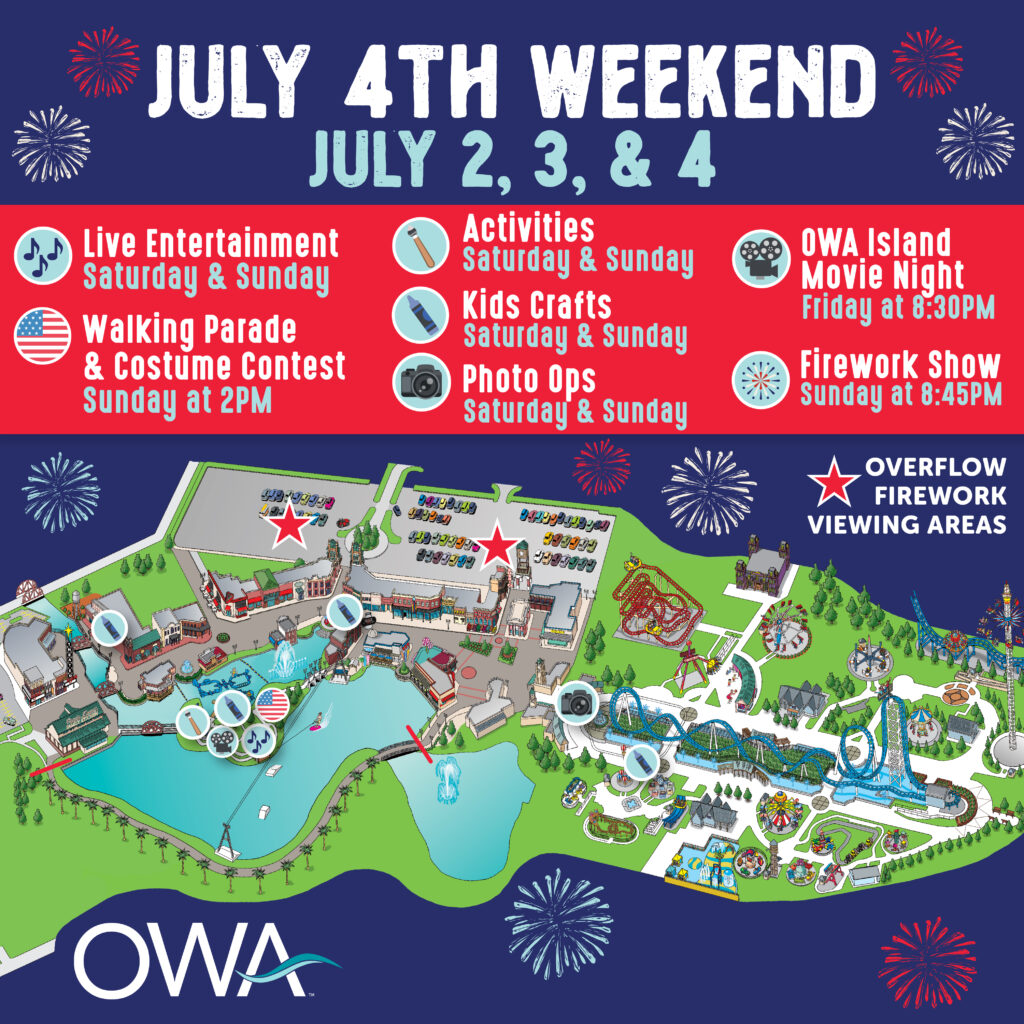 FAQ
Where are the activities located?

For more info on 4th of July Weekend Celebration activity locations, view our event-specific map (below) or for detailed listings of each of the business located throughout OWA, check out the OWA Resort map! We will also have signage and a handout available onsite.
Where are the best places to view the fireworks?

Fireworks are visible throughout the OWA property; however, we do have some favorite viewing areas we can recommend! The Rollin' Thunder is a great place to watch from in The Park. In Downtown, we love to watch from the OWA Island (where we'll also have all of our live music), just outside the OWA Theater, the Downtown OWA Splash Pad and from any of the Downtown OWA bridges facing West.
Are blankets allowed on the OWA Island or in Downtown?

Yes, blankets and towels are allowed for setting up to comfortably enjoy the fireworks and entertainment in Downtown
Are folding chairs allowed on the OWA Island?

Yes, a limited number of folding chairs are allowed only in designated locations as directed by an OWA employee upon arrival.
Are pets allowed on a leash?

Yes, leashed pets are allowed in Downtown OWA. However, only certified service animals are allowed inside the amusement park.
May I bring a cooler or picnic basket with food and drink in Downtown?

Coolers or outside food are not permitted, however food or drink purchased from any onsite OWA restaurant will be allowed in Downtown.
Can I purchase alcoholic beverages on the Island?

While alcoholic beverages are not available for purchase on the Island at this time, OWA restaurants are permitted to sell alcoholic beverages to patrons who are 21 & older (with valid ID) which can be consumed on the Island or throughout Downtown. OWA's entertainment District allows patrons to enjoy the Downtown OWA area, including the Island, with their alcoholic beverages if they keep the beverage in the cup provided by the restaurant at time of purchase.
Do you have designated seating available for guests with a disability?

Yes, designated ADA-accessible seating will be available. See an OWA employee for assistance upon arrival.
Is smoking permitted?

Smoking, electronic cigarettes, or vaping is only permitted in designated smoking sections, which will clearly be marked with signage.
Will the fireworks be Live Stream on Facebook and YouTube?

Yes. We will have a live stream available on our channels if you cant make it in person.