OWA Wine Fest
Next date
Saturday, April 17
This Event has SOLD OUT!

Event Canceled
Hello Wine Fest ticket holders,
With continuous lightning in the immediate area and the forecast continuing to deteriorate through the afternoon we made the difficult decision to cancel the OWA Wine Fest. This decision was made to ensure the safety of our guests and team members.
As a Wine Fest ticket holder, we will be refunding your credit card for any ticket(s) previously purchased. All refunds will be processed within approximately 3-5 business days.
If you have questions about the refund process, please email
[email protected]
with the name used to purchase your tickets, your email address associated with your purchase, and your Order ID. If you have already requested a refund prior to receiving this email, then please disregard.
Know that our team made every effort to pull this event off, but Mother Nature just wouldn't cooperate with us today. We appreciate your patience and understanding in our desire to create a safe, fun environment for our guests and team members alike!
Sincerely,
OWA Management
Designed to educate and celebrate the spirit of renowned vintners, the inaugural OWA Wine Fest will take you on a journey of flavor that will lead you through a vast exploration of wine growers.
Join us in Downtown OWA on Saturday, Apr. 17 from 2-4pm for the inaugural OWA Wine Fest, presented in partnership with C'est Le Vin Wine Bar & Shop. Taste, stroll, sip and celebrate samplings of the tastiest vintage situated amidst the darling pedestrian-only streetscapes of Downtown OWA.
Enjoy the sounds of acoustic guitar music to accompany you on your journey throughout this festival of flavors.
Schedule of Events
1:30-4:30pm
Live Acoustic Music from Ryan Balthrop
Guest Speaker Holly Alberto from C'est Le Vin (2pm)
Guest speaker Lisa Bonet from B&L Brands (3pm)
1:45-3pm
Check in/Wristbanding begins
2-4pm
Wine & Beer Vendors Serve
8am, Monday 4/19
Raffle Drawing for $250 Wine Fest gift basket
All OWA Wine Fest participants are invited to use their complimentary wine journey card to take notes of the various tastings and rate their favorites. A limited number of wines from the event will be available by the bottle for purchase inside C'est Le Vin Wine Bar & Shop. The wine journey card will also allow you entry into a raffle to win a complimentary wine lovers gift basket with a value of $250!
This is a socially-distanced event with limited tickets available. Must be 21 or older to participate.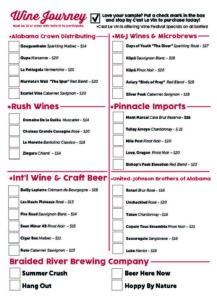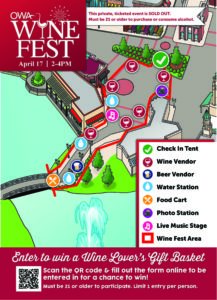 FAQ
Is this a family-friendly event? Participants must be 21 or older. A valid ID is required for participation and must be presented upon check in day of the event (i.e. a state license/ID, military ID or a passport stating birth date on or before Apr. 17, 2000.)
Where is this event located? This event is located throughout Downtown OWA.
How much are tickets? A limited number of tickets are available online for $34.99++ taxes/fees or at The Park at OWA admissions window M-F from 8am – 5pm
Will tickets be available for purchase day-of? A maximum of 250 tickets are available. The OWA Wine Fest may sell out in advance of the event. If the event does not sell out, a limited number of tickets will be available for purchase for $34.99++ taxes/fees day-of and can be purchased at the amusement park ticket window.
What does my ticket include? All participants will be given a wristband for entry after presenting a valid ID. Tickets include 1 oz. pours of at least 30 samples of wine and beer. A minimum of 5 wine vendors will be present with a selection of curated brands per vendor. There will also be 1 beer vendor present with various beers. More info to be announced soon.
When does the event start? The event starts at 1pm. You may present valid ID and exchange your ticket for a wristband and punch card beginning at 1pm. Vendors will be serving 1-ounce pours between 2pm and 4pm.
Are bottles available for purchase? A limited number of bottles are available for each wine tasted. These may be purchased at C'est Le Vin Wine Bar & Shop, cash and carry, same-day with valid ID.