Park After Dark
Saturdays & Sundays in October • Times TBA
Next date
Saturday, October 2
Join us for family-friendly fun in The Park, weekends in October!
Head inside The Park at OWA for a variety of kid-friendly events and activities. From a singing pumpkin telling jokes to trick-or-treating with special characters and even a special hay maze, Park After Dark creates the perfect Halloween fun event time and time again for your family. So grab the kiddos and spend a few Halloween-themed evenings in The Park as they trick-or-treat and make lasting memories!
TRICK-OR-TREAT
The Park at OWA is bound to be your kids' new favorite place to trick-or-treat! Every Friday and Saturday in October, join us in the amusement park for fun and safe trick-or-treating. Save the dates! Times and details TBA. 
This is a socially-distanced event. We invite you to learn more about our enhanced health and safety policies.
Feel free to arrive in character (nothing too scary, please) and enjoy the Park's rides in your favorite Halloween ensembles. Remember, the Park is a no-scare zone, just silly spooks behind the gates! But if you want to keep it scare-free all season long (even outside The Park gates), you can purchase a No Boo necklace for protection from ghouls and goblins. No Boo necklaces are sold at The Park ticket window and Parkside Gift Shop.
Want to know the ultimate way to top off the season? Dress the whole family in costume and enter our annual Monster Bash Costume Contest!
This kid-friendly contest will be held inside the amusement park for kids of all ages to enjoy! There will be four age groups: 0-3, 4-6, 7-16 and 17+. Each age group will have three winners (1st, 2nd, and 3rd place) and winners for overall categories among all ages: Most Creative, OWA Choice and Best Overall. Costume entries will be simple walk-on-and-pivot displays. The emphasis on judging is on costumes, but makeup, presentation and ingenuity will also be taken into account.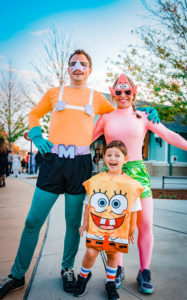 RULES
Good taste must be used in the creation and presentation of costumes. Gore, graphic violence, nudity, swearing, or other objectionable elements may be grounds for disqualification as determined by the Monster Bash Costume Contest staff. OWA attracts many families each year and we wish to maintain a comfortable atmosphere for all spectators. OWA management reserves the right to reject any participant whose costume is deemed to be inappropriate, inadequate, or does not meet the requirements.
1. Only enter and exit the stage area when registration number is called.
2. Awards will be presented at the judge's discretion: 1st place, 2nd place, and 3rd place for each age group and overall categories.
3. Any item that presents the possibility of damage to the entrants, their costumes, the audience, or the facility is prohibited. Weapon and/or replicas, fire and liquids are prohibited.
4. Participants will be disqualified from the contest for failure to observe any rules.
5. All decisions made by the judges are final. Prizes will be awarded at the end of each age group. Specialty awards will be given at the conclusion of the contest.
6. No entries will be accepted after 5:30pm. Contestants who do not appear at the stage when their number is called will be dropped from the contest.
7. Please arrive in costume. Dressing facilities will not be provided.
8. Entrants are responsible for their own belongings. OWA is unable to provide a secure area for personal items.
9. If participants plan to ride the attractions, The Park at OWA ride operators reserve the right to request the removal of the costume or any part of the costume in order to keep all guests at The Park at OWA safe.
Looking for something a little more haunted? Town of Terror may be more your speed. But beware! It's not for the faint of heart.