OWA Live Music Series – August 6
Next date
Saturday, August 6
Hey Music Lovers, join us for free musical performances at the OWA Live Music Series featuring Flow Tribe!
OWA Live Music Series
August 6
5:30-9pm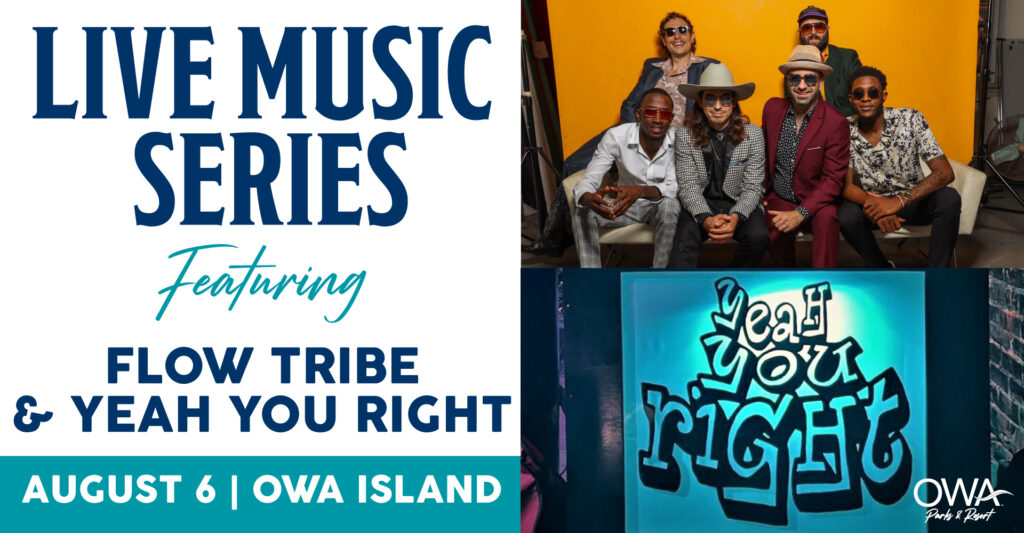 Our summer concert series is back! Join us select Saturdays this summer on the OWA Island Amphitheater for a sizzling hot lineup of live music!
Saturday, August 6 will feature headliner Flow Tribe from 7:30-9pm with opening act, Yeah You Right at 5:30pm. Grab a cold beverage to go from your favorite Downtown OWA restaurant and meet us at the Island!
Must be 21+ to consume alcohol. Please enjoy responsibly.
Learn more about the artists below as well as other OWA Live events!
Flow Tribe recently released their new single featuring Ivan Neville called "Keep Pushing". The single is an upbeat funk/soul anthem that spreads the good word of never giving up. If any band has experienced the full spectrum of fortune and adversity it's the six Southern rascals in Flow Tribe.
Founded in 2004, the band solidified in the wake of Hurricane Katrina's destruction with the mission to bring the next generation of the New Orleans' sound of unstoppable rhythm and passion to the world. The next 15 years would find Flow Tribe performing over 120 shows a year crossing the country multiple times from the biggest festival stages to
freak shows. These are six seasoned blue collar musicians who grind out the good times. They carry on the road dog tradition of following the highway to wherever the next crowd congregates.
The release of 2017's "BOSS", produced by legendary hip hop hit maker Mannie Fresh, gave Flow Tribe a critically acclaimed album that reached #58 on Billboard's R&B Chart. Recording "BOSS" convinced the band of the necessity to build their own studio and establish a hub for creativity for the New Orleans' music community.
The fruits of their labor are evident in the latest single "Keep Pushing". Recorded at Flow Tribe's Downman Sounds Studio, the single showcases Flow Tribe writing, engineering, and producing a track for their upcoming album completely by their own hands. Partnering with the legendary Ivan Neville (Dumpstahphunk, Rolling Stones) "Keep Pushing" leaps out of the speakers with an infectious and unrelenting groove. The incomparable vocals and organ playing of Ivan elevate the song to new heights. It acts as a tantalizing appetizer for their soon to be released album under the same name.
Over the past 15 years Flow Tribe grew up on the road. Each show compacted another strata of experience into the band's uncanny resilience and longevity. "Keep Pushing" demonstrates Flow Tribe in full maturation at the height of their creativity. A career of triumphs and hard knocks animates a sound described as "bizarrely irresistible" by Relix Magazine. "Keep Pushing" invites the listener to
Yeah You Right, established in 2004, is the ORIGINAL all live, high energy rock, hip hop/pop/dance party event from Southern LA. We bring the party and cover all your favorite artists and songs from the 80's through today. Come out to a show near you
See concert lineups