OWA Live Concert Series – July 31
Next date
Saturday, July 31
Join us for OWA Live with free musical performances from Walker Montgomery and Mario Mena Band on Saturday, July 31 starting at 5:30pm!
July 31st
Are you ready for our hottest music series yet? July 24th and 31st from 5:30-10pm, you can catch free, live music on the OWA Island from regional and local musicians and favorites like Walker Montgomery, Mario Mena Band, Red Clay Strays and Sugarcane Jane! Top your summer off with OWA Live, the last two Saturdays in July. Each weekend will feature different genres. From high energy country music, to folk, rockabilly and soul, OWA Live is just what the doctor ordered.
Starting at 5:30pm on Saturday, July 31, the Mario Mena Band will croon two one-hour sets of blended country, soul and Southern rock followed by a live performance from country singer-songwriter Walker Montgomery.
WALKER MONTGOMERY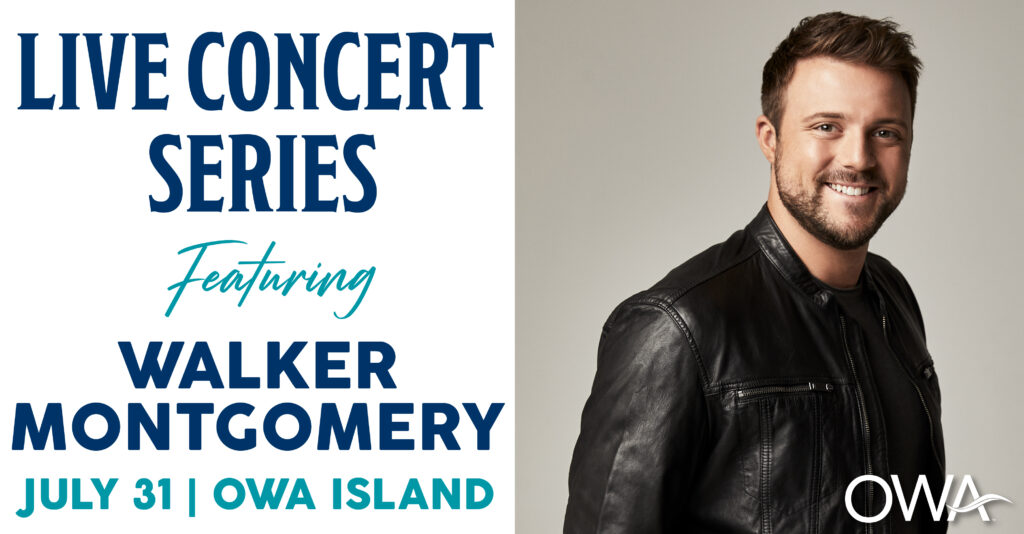 July 31
8:30pm
Learn More About Walker Montgomery

Walker Montgomery is a country singer-songwriter who knows a thing or two about family tradition, but he's an artist making his own legacy. The 21-year-old son of John Michael Montgomery and nephew of Montgomery Gentry's Eddie Montgomery, the emerging star was raised away from the spotlight in Nicholasville, Kentucky. But now that he's found that spotlight on his own, Montgomery's pedigree is matched only by his country passion. Signed to Play It Again Entertainment and produced by a chart-topping team known to the world as The Peach Pickers – Dallas Davidson (27 career Number Ones); Ben Hayslip (four-time CMA Triple Play Award winner); and Rhett Akins (31 career Number Ones) – he's already put his classically-inspired, honey-bourbon vocal to use on a self-penned hit debut ("Simple Town," over 5 Million Spotify streams). A pair of story-building singles followed – the high-energy "Like My Daddy Done It" and passionate "She Don't Know" which has reached over 5 Million streams – and there's more on the way. Montgomery and his team have already logged countless hours in the studio, as the breakout talent works to hone his lyrical honesty and integrity, plus a lived-in sound that brings country's past into the present tense. "I want my music to stand the test of time and connect with people no matter who they are," he says. "I learned from my family that the way you do that is by being true to yourself, and that's the reason I'm here. That's the reason I get up every day and do what I do – to help take care of the family name, and make them proud."
---
Mario Mena Band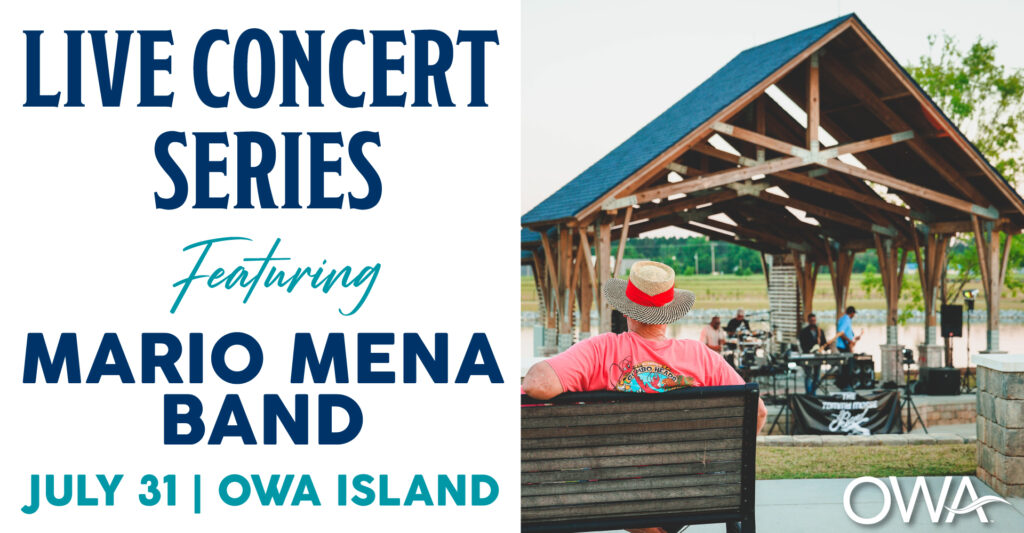 July 31
5:30pm
FAQ
Are blankets allowed?

Yes, blankets and towels are allowed.
Are folding chairs allowed?

Yes, a limited number of folding chairs are allowed only in designated locations as directed by an OWA employee upon arrival.
Are pets allowed on a leash?

Yes, leashed pets are allowed.
May I bring a cooler or picnic basket with food and drink?

Coolers or outside food are not permitted, however food or drink purchased from any onsite OWA restaurant will be allowed.
Can I purchase alcoholic beverages on the island?

While alcoholic beverages are not available for purchase on the Island at this time, OWA restaurants are permitted to sell alcoholic beverages to patrons who are 21 & older (with valid ID) which can then be consumed on the Island. OWA's entertainment District allows patrons to enjoy the Downtown OWA area, including the Island, with their alcoholic beverages as long as they keep the beverage in the cup provided by the restaurant at time of purchase.
Do you have designated seating available for guests with a disability?

Yes, designated ADA-accessible seating will be available. See an OWA employee for assistance upon arrival.
Is smoking permitted?

Smoking, electronic cigarettes, or vaping is only permitted in designated smoking sections, which will clearly be marked with signage.