Monsters Got Talent
Friday - Sunday, Oct 15-31
Next date
Friday, October 29
Seward Studios presents, Monsters Got Talent, a free, live show at the OWA Island Amphitheater!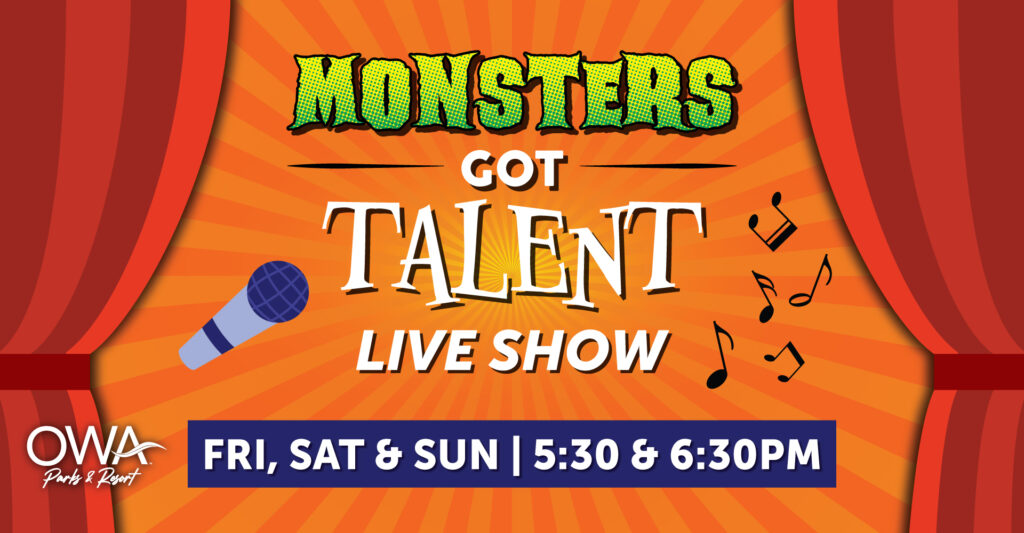 Seward Studios Presents:
Monsters Got Talent
October 15 – 31
Fri, Sat & Sun
If you loved Wonder, then you're in for a treat this fall! Seward Studios and OWA are happy to partner once again to bring you Monsters Got Talent! This age-appropriate and FREE Halloween show is located on the OWA Island Amphitheater and will feature family-friendly live song and dance!
Monsters Got Talent will bring you a fresh look at our favorite Halloween monsters and showcase their true talents of song and dance! Watch them compete to see who's got what it takes to be a star – and they'll be judged by none other than the ghoulish guests in the audience!
The show is approximately 20 minutes long and will show twice nightly on Fridays, Saturdays and Sundays this October beginning October 15. Showtimes are at 5:30pm and 6:30pm.
So, get ready to sing, dance and SCREAM this fall! *This is a feel-good, family-friendly and age-appropriate show. Children are encouraged to attend. Arrive early to enjoy the rest of our family-friendly Halloween fun like kids crafts and trick-or-treating! Visit our Halloween at OWA page to find out all the family-friendly and scary events this season.
FAQ
Are blankets allowed?

Yes, blankets and towels are allowed.
Are folding chairs allowed?

Yes, a limited number of folding chairs are allowed only in designated locations as directed by an OWA employee upon arrival.
Are pets allowed on a leash?

Yes, leashed pets are allowed.
May I bring a cooler or picnic basket with food and drink?

Coolers or outside food are not permitted, however food or drink purchased from any onsite OWA restaurant will be allowed.
Can I purchase alcoholic beverage on the island?

While alcoholic beverages are not available for purchase on the Island at this time, OWA restaurants are permitted to sell alcoholic beverages to patrons who are 21 & older (with valid ID) which can then be consumed on the Island. OWA's entertainment District allows patrons to enjoy the Downtown OWA area, including the Island, with their alcoholic beverages as long as they keep the beverage in the cup provided by the restaurant at time of purchase.