Memorial Day Patriotic Fountain Show
Enjoy a patriotic, lighted fountain show this Memorial Day coordinated with music in Downtown OWA!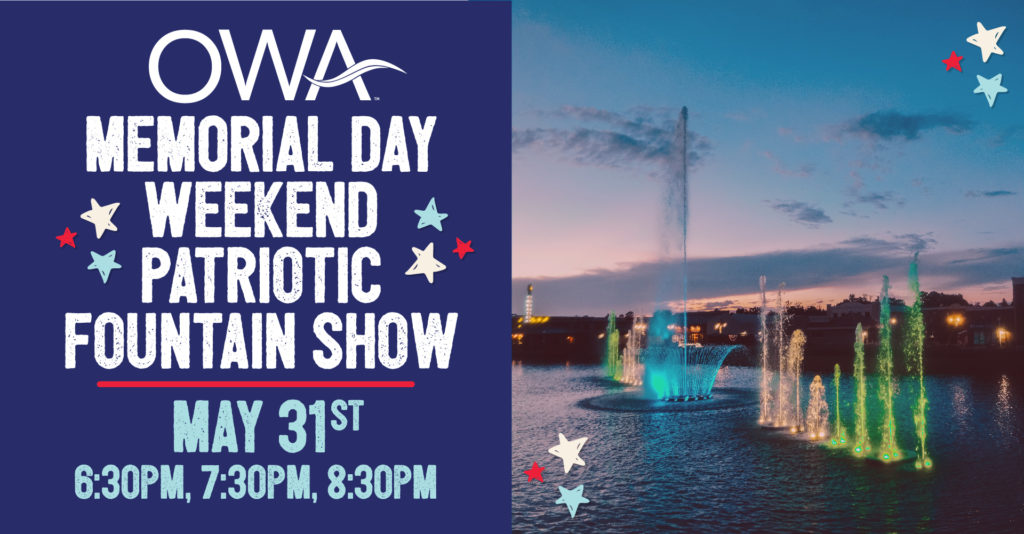 Watch the OWA fountain dance in lights as the reds, whites and blues rise and fall dramatically with the pulse of patriotic music! Enjoy this beautiful display every hour on the half hour, starting at dusk. Times for the fountain show will be 6:30, 7:30 and 8:30pm on Monday, May 31, 2021.
That's not all! There's a full weekend of live music featuring country legend Collin Raye on Saturday night followed by some Sunday blues! Sunday's headliner is the Grammy-winning Jimmy Hall. We'll also have Gypsy Spark an 56LOW keeping the energy moving Sunday on the OWA Island!
Saturday and Sunday will also feature free kids' activities including cornhole from 2-6pm, a scavenger hunt throughout Downtown OWA, patriotic kids crafts and activities and so much more! Join us for a weekend full of fun as we kick off summer and honor our country's finest.