Legends In Concert January Lineup
January 6-23 — Wed.-Sat. 7pm; Sun. 3pm
Next date
Friday, January 21
Legends in Concert and the OWA Theater showcase incredible talent with some of the biggest names in music history.
Legends in Concert and the OWA Theater are kicking off the summer season with some of the biggest names in music history.

Ticket-alt


Facebook-f


Instagram


Phone

Legends in Concert is the longest-running show in Las Vegas history. This internationally acclaimed and award-winning production is the pioneer of live tribute shows and possesses the greatest collection of live tribute artists in the world.
Since its Vegas debut on May 5, 1983, the show now has tributes to over 70 stars including Michael Jackson, Elvis Presley, Whitney Houston, Madonna, Elton John, Steven Tyler, Cher, Britney Spears, Frank Sinatra, Rod Stewart, Celine Dion, Lady Gaga and more. 
These incredible artists have pitch-perfect live vocals, signature choreography, and stunningly similar appearances to the legends they portray.
Legends in Concert features elaborate theatrical sets, magnificent costumes, extensive multi-media experience, and a full array of special effects.  An outstanding cast of accomplished tribute artists, a talented ensemble of singers and dancers, and a live band comprised of some of the industry's top musicians, bring the musical experience to life.
Now Showing
Feel the heat with the all-new sizzling summer lineup featuring tributes to Bruno Mars, Cyndi Lauper, Katy Perry, Lady Gaga and young Michael Jackson!
| OWA Legends 2021 | Base Ticket Prices |
| --- | --- |
| Reserved Adult | $39.95 |
| Reserved Child | $22.95 |
| Preferred Adult | $42.95 |
| Preferred Child (ages 4-12) | $25.95 |
| Mezzanine Adult | $44.95 |
| Mezzanine Child (ages 4-12) | $27.95 |
| Group Discounts Available | [email protected] |
| Military Discounts Available |   |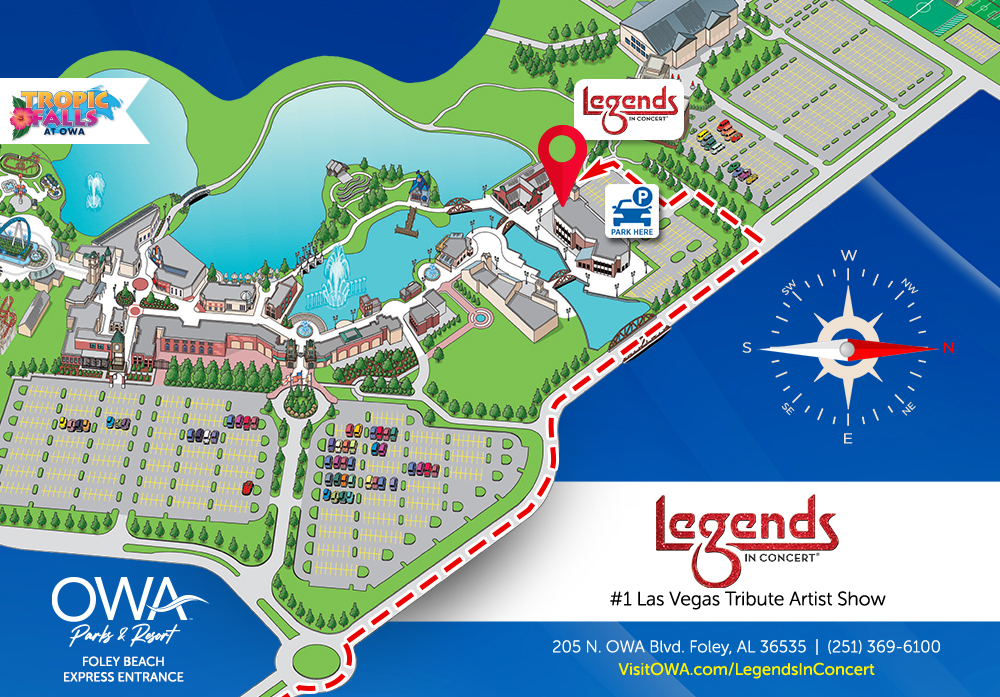 Purchase tickets


Join our fan club


(251) 369-6100


205 N. OWA Blvd
Foley, AL 36535


Health & safety guidelines

Featured content