Labor Day Weekend Celebration
September 4th & 5th
Next date
Saturday, September 4
Spend your Saturday with OWA this Labor Day weekend for a car show & fireworks + kid's activities & live music Saturday thru Sunday!
Labor Day Celebration
September 4th & 5th
Saturday, September 4, enjoy a day of cool cars and hot rods spread throughout Downtown and the amusement park, followed by a live outdoor concert from the Miles Flatt Band and The Chee-Weez. Top it all off with OWA's patriotic firework spectacular to end the night.
Sunday, September 5, the fun continues with more kids' activities followed by live music from the Jenna McClelland Band and Southern Approach on the OWA Island Amphitheater.
Celebrate with a fun day in the streets of Downtown OWA and grab a delicious lunch. Hop inside The Park at OWA and scream your heart out on Rollin' Thunder, or take advantage of our free Non-Rider Ticket and simply enjoy the view!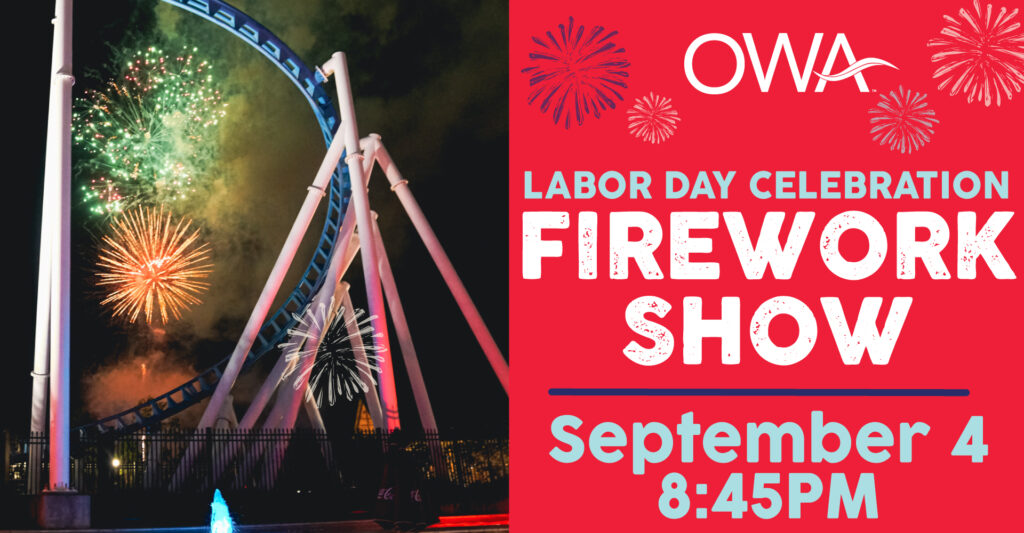 Firework Show
September 4th
8:45pm
Wrap up your summer and celebrate Labor Day Weekend with an epic firework show at OWA on Saturday, September 4th. The fireworks go off at 8:45pm sharp. This patriotic show, timed perfectly with music, can be seen throughout the entire property.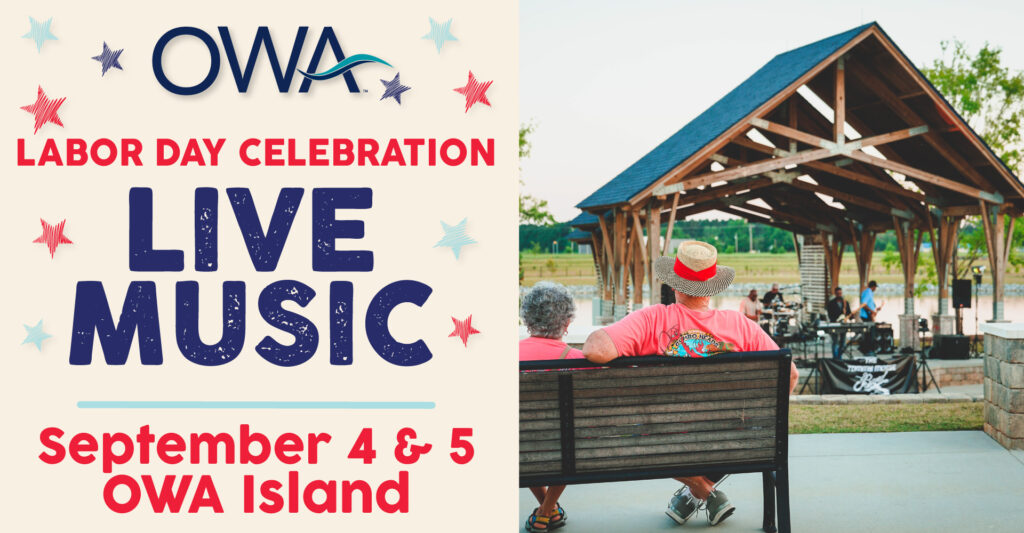 Live Music
September 4th
Live music will be featured on the OWA Island on Saturday, September 4 from 4:30 – 10pm, so stick around for even more fun following the car show. Check out some kickin' tunes from the Miles Flatt Band followed by the high-energy antics of The Chee-Weez to close out our night and bookend the fireworks. Fireworks will go off promptly at 8:45pm.
The Chee-Weez

The Chee-Weez are a 5 piece tribute/show band that specialize in making sure YOU have a great time and leave with a smile. With an ever-expanding stage show including video walls, lights, lasers, and pyro, to the off-the-cuff antics, you never know WHAT you'll see next at the Chee-Weez show! But be warned…you WILL be entertained!

Formed in 1997 in a garage just outside New Orleans, LA., The Chee-Weez began life as a disco tribute act. (Afros and platform shoes included). But on a random night in a smokey bar room sometime in 1998, the boys decided to throw a dash of Bon Jovi and pinch of Journey into the mix to see how the audience responded, and the rest, as they say…is history!

The band continued to add classic rock and 80's hair metal to the set, while still putting their own spin on a number of oldies, classics, and even 80's new wave tunes, and "The Chee-Weez sound" was born.

They continued on to perform along side acts across the country, from Styx and Journey, to the Pointer Sisters and K.C. and the Sunshine Band. From small, quaint bars to arenas and stadium sized venues everywhere, The Chee-Weez bring their unique brand of PARTY anywhere and everywhere there are people who want to rock out and have FUN.

There are countless acts that aspire to perform everything "just like the record". The Chee-Weez experience is more than this. It's spur of the moment medleys. It's rocked out 80s dance tunes and R&B. It's uptempo Neil Diamond. It's Metallica. Anything. And EVERYTHING, goes at a Chee-Weez show. The Chee-Weez aren't about 1 genre. They aren't about 1 style. The Chee-Weez are about FUN. It's about having a good time with your closest friends, laughing, smiling, and of course, enjoying the PARTY The Chee-Weez strive to bring each and every time they step on stage.

The Chee-Weez are about bringing an arena rock show to the masses, while still keeping the audience involved at each and every turn.
Miles Flatt Band

A Miles Flatt show has been described as a concert with a dance floor. The band has put together a high energy show that will keep you on your feet for hours. Miles Flatt likes to think they have a little something for everybody.
Live Music September 5th
Labor Day fun continues on Sunday, September 5th! Live music will be featured on the OWA Island from 6-9:30pm. Check out the Jenna McClelland Band followed by our headliner, Southern Approach.
Jenna McClelland

Jenna McClelland is a songwriter and performer from Maryville, TN by way of Opelika, AL. Now based in Mobile, AL, Jenna is the daughter of the late blues guitarist and songwriter, Billy Earl McClelland. Since 2013, Jenna has written and released music and traveled the southeast performing everywhere from dive bars to large stages. Fate and her songs have landed her stage shares with the likes of Whiskey Myers, Bonnie Bishop, Them Vibes, and Ernie Halter. Her all-star rock band features Mobile cats Caleb Murph, Zach Nelson, and Travis Patch. The four played their first show together in 2018 and never looked back. This line up of players with Jenna's megaphone vocals create a high-energy show that makes Jenna McClelland Band a must-see on the Gulf Coast.
Southern Approach

Southern Approach, a cover band playing a variety of classic rock, R&B, and country hits across several decades.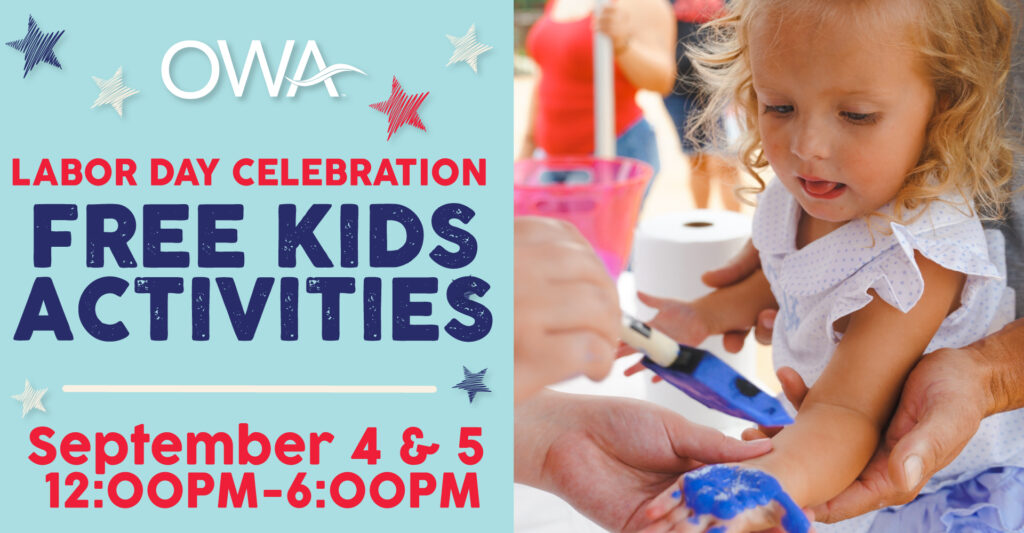 Kids Activities
September 4th & 5th
12pm-6pm
From noon to 6pm on Saturday and Sunday, enjoy some interactive fun with your little ones. We'll have a scavenger hunt to get you moving throughout Downtown plus patriotic handprint t-shirt crafts. Head to the splash pad in Downtown OWA and Clash eSports Center where these crafts and games are completely free to enjoy.
Map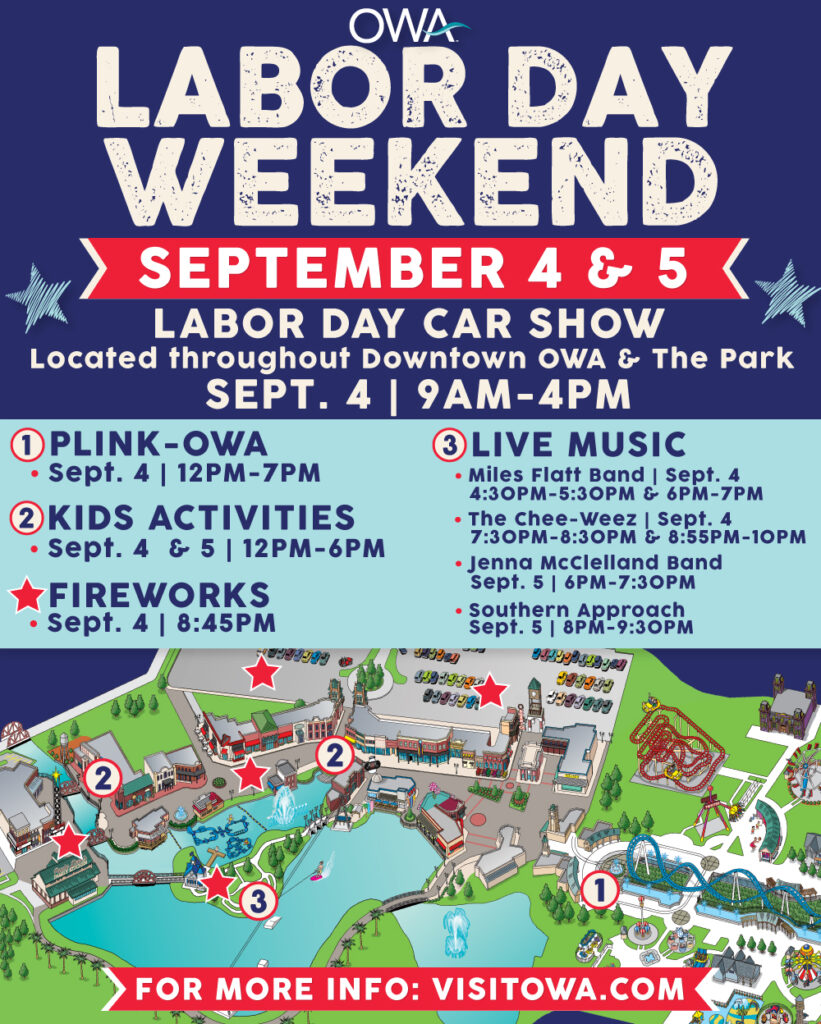 FAQ
Where are the activities located?

For more info on OWA's Labor Day weekend events and activity locations, view our event-specific map (below) or for detailed listings of each of the business located throughout OWA, check out the OWA Resort map! We will also have signage and a handout available onsite.
Where are the best places to view the fireworks?

Fireworks are visible throughout the OWA property; however, we do have some favorite viewing areas we can recommend! The Rollin' Thunder is a great place to watch from in The Park. In Downtown, we love to watch from the OWA Island (where we'll also host our live music), just outside the OWA Theater, the Downtown OWA Splash Pad and from any of the Downtown OWA bridges facing West.
Are blankets allowed on the OWA Island or Downtown?

Yes, blankets and towels are allowed for setting up to comfortably enjoy the fireworks and entertainment in Downtown.
Are folding chairs allowed on the OWA Island?

Yes, a limited number of folding chairs are allowed only in designated locations as directed by an OWA employee upon arrival.
Are pets allowed on a leash?

Yes, leashed pets are allowed in Downtown OWA. However, only certified service animals are allowed inside the amusement park.
May I bring a cooler or picnic basket with food and drink into Downtown?

Coolers or outside food are not permitted, however food or drink purchased from any onsite OWA restaurant will be allowed in Downtown.
Can I purchase alcoholic beverages on the island?

While alcoholic beverages are not available for purchase on the Island at this time, OWA restaurants are permitted to sell alcoholic beverages to patrons who are 21 & older (with valid ID) which can then be consumed on the Island or throughout Downtown. OWA's entertainment District allows patrons to enjoy the Downtown OWA area, including the Island, with their alcoholic beverages if they keep the beverage in the cup provided by the restaurant at time of purchase.
Do you have designated seating available for guests with a disability?

Yes, designated ADA-accessible seating will be available. See an OWA employee for assistance upon arrival.
Is smoking permitted?

Smoking, electronic cigarettes, or vaping is only permitted in designated smoking sections, which will clearly be marked with signage.
Is seat saving permitted?

Seat saving is not permitted. Please plan to arrive with your full party or move to an open location once your remaining party has joined you.