Halloween Movie Nights
Saturday, Oct 8-29
Next date
Saturday, October 8
Don't wait! Purchase your ticket to see your favorite horror movies this Halloween season. IN 4-D!
OWA Theater presents
Saturdays, Oct. 8-29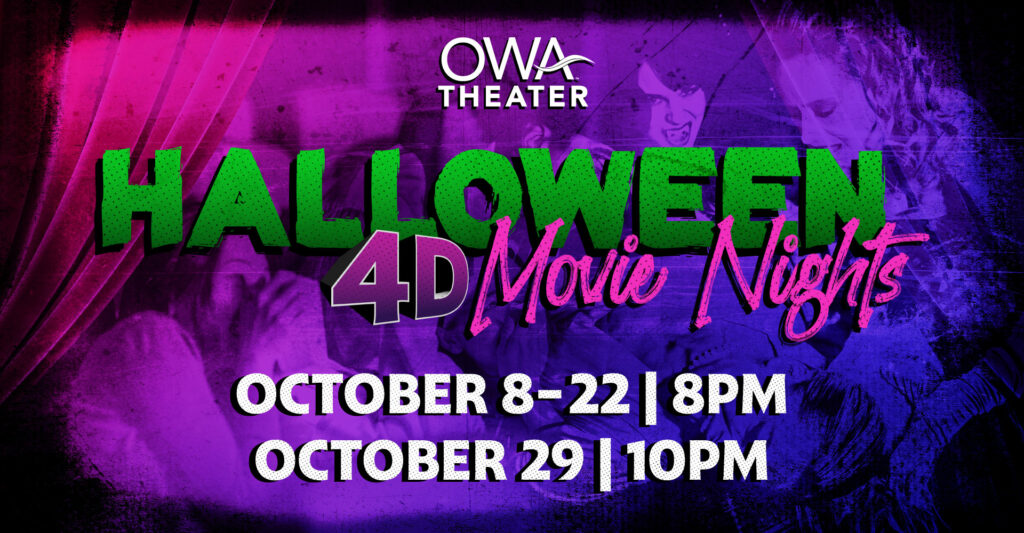 The OWA Theater proudly presents Halloween Movie Nights on Saturdays in October beginning Oct. 8. This 4-D experience will have you leaping out of your chair in fright as you watch your favorite classic horror movies with fog, lights and your favorite horror villains in person! This $5 ticket is a scary-good deal!
Coming with friends or family? Purchase a 4-pack of tickets for only $15!
Use the code 4PACK at checkout!
Check out the schedule below!
Saturday, Oct. 8
8pm

A Nightmare on Elm Street
(1984)

Saturday, Oct. 15
8pm
Saturday, Oct. 22
8pm
Saturday, Oct. 29
10pm

The Rocky Horror Picture Show*

*Showtime for The Rocky Horror Picture Show will be at 10pm.
Come out early to be a part of a Rocky Horror themed costume contest beginning at 9pm featuring a $150 cash prize!
More Halloween events