Gulf Coast Hot Air Balloon Festival
May 12-14
Downtown OWA, Tropic Falls at OWA
Join OWA and the South Baldwin Chamber of Commerce for the 18th Annual Gulf Coast Hot Air Balloon Festival May 12-14, 2022, presented by Wolf Bay Restaurant.
The Gulf Coast Hot Air Balloon Festival at OWA Parks & Resort is presented by Wolf Bay Restaurant and benefits the South Baldwin Chamber of Commerce.
Named the 2021 Event of the Year by the Alabama Tourism Department, this all-ages hot air balloon festival is free-to-enter with a variety of activities and entertainment to keep your imagination soaring. The festival features daily live music and entertainment, arts and crafts displays, and balloon glows plus tethered rides (weather-permitting).
This year's event will feature over 50 balloons with pilots from across the country! Catch the Balloon Glow (weather and wind permitting) daily beginning around dusk.
Thursday, May 12
Friday, May 13
Saturday, May 14
FAQ
Why are balloons not visible during the day?
Hot air balloons do not inflate during the day because when surface winds are calm, hot air balloon pilots can control the altitude of the balloon very finely by heating or venting the air inside. During the day these light surface winds are broken up by "thermals." These are rising columns of warm air that spiral skywards, caused by the heating effect of the sun on the ground. Birds and glider pilots love them but for a hot air balloon; thermals make it very difficult to control the balloon. So the warmer the day the greater the possibility of thermals. This is the reason that dusk and dawn are the most optimal times to inflate.
Balloons fly early in the morning (around dawn) and late in the afternoon (around dusk). All flights are weather dependent. Balloons can only fly in perfect weather, including wind speeds of 7mph or less. See the full schedule for this year's planned flight times.
When do you decide whether balloons will fly?
Our experienced balloonmeister monitors weather conditions right up until scheduled flight times to ensure flight safety, which is always our number-one priority. Variations of wind speeds at various altitudes, as well as other weather conditions, cannot be pinpoint-forecast for our specific flight locations in advance. Therefore, they must be monitored up until scheduled flight time when a final determination is made.
What are tethered balloon rides?
The balloons are tethered to the ground and rise up to about 50 feet in the air. Ticket holders can meet the pilot, climb into the balloon and rise above the crowd. Tethered rides require a pre-purchased ticket and a signed waiver of liability (available onsite).

View more FAQs


View Schedule of Events


View Tropic Falls Theme Park Hours

Festival Map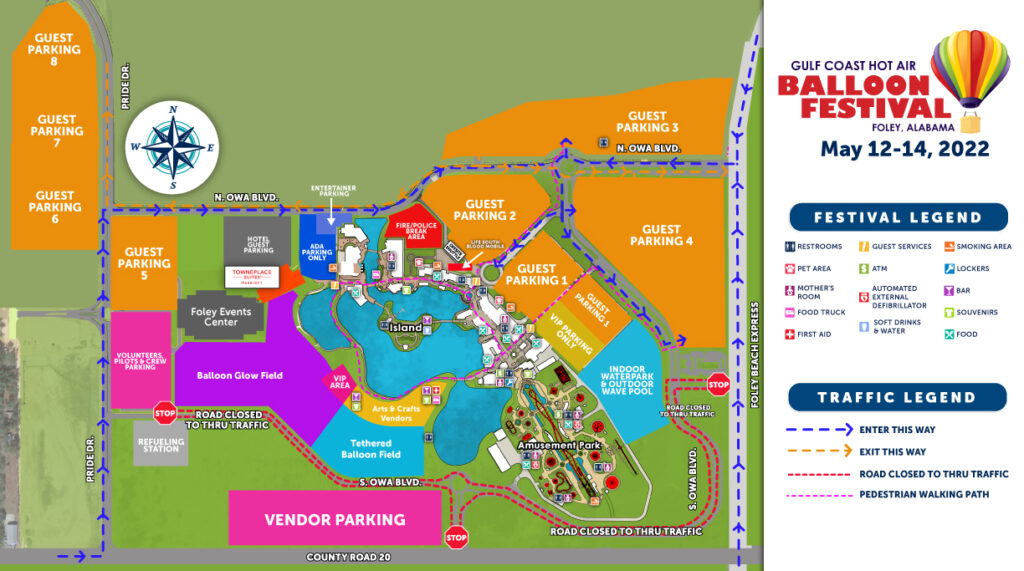 See more events