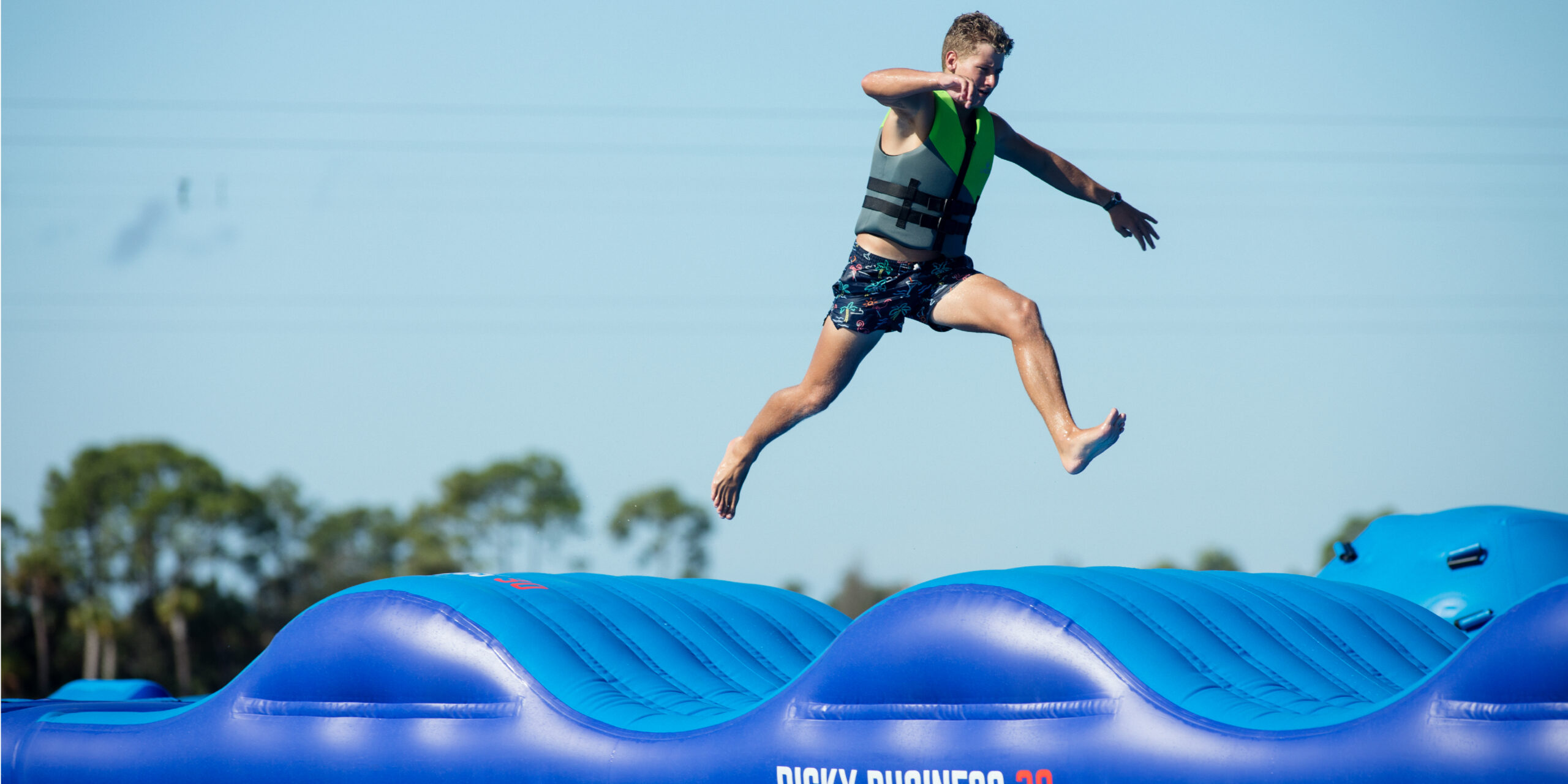 Aqua Play Summer Camp
<p>An event every week that begins at 8:00 am on Monday, Tuesday, Wednesday, Thursday and Friday, repeating until July 9, 2021</p>
Book Your Summer Aqua Play Camp Sessions Today!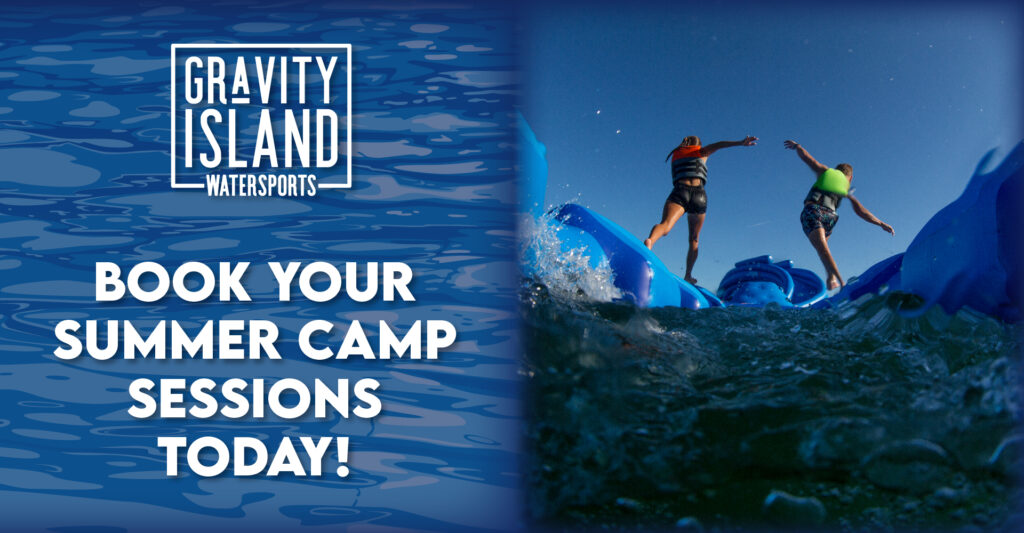 ---
Ready For A Summer Adventure? We can't wait to #ShareTheStoke with you at the Gravity Island Watersports Aqua Play in Downtown OWA! There is a fun schedule of activities planned to keep your camper socialized and active this summer season. Campers will enjoy fun team building activities, play and jump on our Aqua Play and interact with fellow campers and awesome staff!
Limited group size; register today to lock in summer fun for your camper!

Our team members are truly the best part of our camp, and all staff are trained in water sports instruction, first aid, CPR, and lifesaving. They have shown themselves to be capable and excellent at caring for people. That is why we chose them to help watch over your child.
CAMP PRICES START AT $349.95. Extended care and lunch add-on options available. Multi-camper discounts are available with additional discounts for Gravity Island Members.
What we provide: USCG life vest for use on Aqua Play, Gravity Island Watersports T-shirt, optional lunch available for an additional fee, instruction by trained and certified staff and adult supervision.
What campers bring: swim attire, towel, sunscreen, hat, change of clothes, cool snacks, water bottle and any necessary medications. Campers also provide their own lunch unless purchasing the add-on from the local restaurants.
MONDAY – FRIDAY, 8AM TO 2PM
EXTENDED CARE is available between 2-5PM.
2021 AQUA PLAY SUMMER CAMP SCHEDULE
July 5th-9th
July 12th-16th
July 19th-23rd
July 26th-30th

QUESTIONS? Contact [email protected] or call the Pro Shop at
251-239-3120.
Eligibility

Boys and girls ages 6-15
Qualified swimmers
If a camper has needs that require special consideration, please contact Gravity Island Watersports.
Typical Day at Camp

8:00-8:30 Camper Drop-Off
8:30-9:30 Activity/Game
9:30-10:30 AquaPlay
10:30-11:30 Lunch/Break
11:30-12:30 Activity/Game
12:30-1:30 AquaPlay
1:30-2:00 Dry off, Camper Pick-Up
2:00-5:00 Extended Care
What happens if it rains?

Light Rain – all activities will continue like normal.
Heavy Rain – if the rain is torrential- all activities will take a pause. We will go to the Chill Zone and play classic camp games. We will still have a lot of fun!
Lightning – If lightning is in the area all activities will stop and we will all seek shelter.
Cancellation & Refund Policy

In cases where a camper's registration is canceled for medical reasons (upon a doctor's order), any amount paid towards camp, less an administrative fee of $25, will be refunded. Campers who cancel prior to 8:00pm Monday before your scheduled week will be refunded the full amount. Campers who cancel after this time, will be refunded half of the camper fee if the camper's account was paid in full at the time of cancellation, AND we are able to fill their space. No deductions or refunds will be given for late arrivals, early departures, or missing a certain day(s) of camp. Gravity Island Watersports reserves the right to dismiss any camper whose behavior is detrimental or harmful to self, other campers, or camp staff. Campers sent home for disciplinary reasons will not receive a refund and may be ineligible to return for future summers. In the event of 5 or less campers registered for a week of camp the Wednesday prior to a session, Gravity Island Watersports may cancel that week of camp. Gravity Island Watersports will offer alternate sessions of camp to a camper, assuming there are spots available in another session. If another week of camp does not work for the park or camper family, Gravity Island Watersports will offer a refund in full.