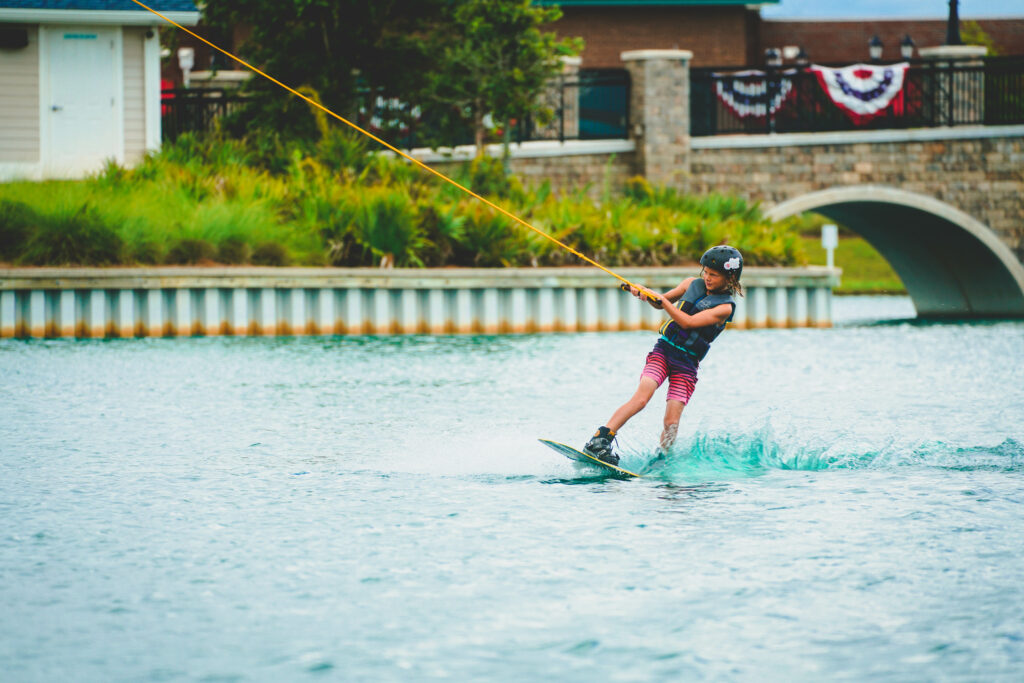 Gravity Island Watersports
Call Website Facebook Instagram
#ShareTheStoke with our Aqua Play and Wake Park, the first of their kind in Coastal Alabama.
Location
500 S. OWA Blvd.
Foley, Al. 36535
Phone
Open Thursday – Sunday 12pm-7pm
At Gravity Island Watersports, getting out of your comfort zone just became easier. Our Aqua Play and Wake Park are the first of their kind in Coastal Alabama. Scared of sharks? Rip currents? Want something else to do other than just "going to the beach"? Come experience our safe and controlled environment for the best watersports experience the Gulf Coast has to offer.
Guaranteeing thrills and laughter for the whole family, our Aqua Play consists of an inflatable obstacle course on the lake that's a fun challenge for all ages to enjoy. Guests will slip and slide, trying not to fall off, as they test their versatility and rush across the obstacles.
Our Wake Park includes a 2-tower cable system with obstacles in the water below and an overhead cable spanning 700+ feet to pull riders by rope and handle to wakeboard, wakeskate, kneeboard, water ski or go tubing. For those new to watersports, Gravity Island Wake Park offers a "get up guarantee" to enhance the experience for every rider, regardless of experience.
Operated by local professional wakeboarder, T. J. Allen, and his wife, Caitlin, their team will provide hands-on training with the cable system to help you glide across the lake: with certified lifeguards on hand to ensure a fun, safe experience for all guests. Additionally, T.J. and his team will coach and give lessons to everyone looking to grow and improve their wakeboard skills.
---
Aqua Play Update
Our Aqua Play season has ended, which means we are temporarily suspending operations for that portion of the Gravity Island experience until Spring 2022. In the meantime, you can still book your session to get your shred on at the Cable Park open Thursdays – Sundays through January 1, 2022.
---