Gravity Island Watersports
The Wake Park at Gravity Island Watersports is a 2-tower cable system by Sesitec System 2.0 stretching across the lake at OWA Parks & Resort. The system uses an overhead cable spanning 700+ feet with a carrier to pull riders by rope and handle to wakeboard, wakeskate, kneeboard or go tubing.
Not a novice? Then get some air and show us your tricks on any of the five Unit Park-tech features on the course. With a small and large kicker, a medium pipe, bump and ollie box rooftop, every rider is sure to get the high that will keep them shredding all year long!
The Aqua Play at Gravity Island Watersports offers recreational waterplay on two inflatable obstacle courses in the lake at OWA. Guaranteeing thrills and laughter for the whole family, guests will slip and slide, trying not to fall off, as they test their versatility and rush across the obstacles.
Operated by local professional wakeboarder, T.J. Allen, and his wife, Caitlin, their team will provide training and certified lifeguards to ensure a fun, safe experience for all guests. Additionally, T.J. and his team will coach and give lessons to anyone looking to grow and improve their wakeboard skills.

Try something new at the Wake Park! The team at Gravity Island Watersports will coach you through the process + you save $$$ with the Wake Park First Timer Package.

Get ready to Dash to the Cash, June 18th on the Gravity Island Aqua Play— $550 in cash prizes up for grabs!

Private Wake Park Lessons
Looking to build skill and work some drills in the Wake Park? We're now offering private wakeboarding and wake skate lessons.

Bring a Buddy to the Aqua Play
Bring a Buddy to the Aqua Play on Tuesdays and Wednesdays and save this spring!

Gravity Island Memberships
Relax, have fun and level up with a Wake Park membership!

Get ready to Dash to the Cash, July 16, on the Gravity Island Aqua Play— $550 in cash prizes up for grabs!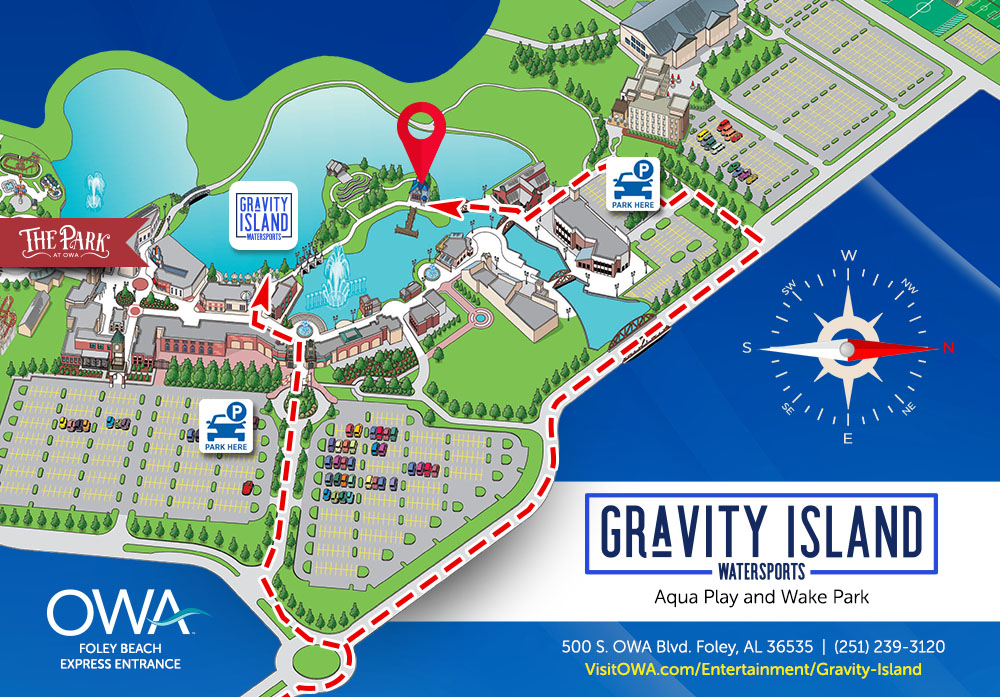 Weather Policy as of April 11, 2022
Gravity Island Watersports will operate in the case of rain but will shut down temporarily if lightning is within 10 miles of the property.
In the case of a lightning delay, all passes are frozen until lightning is outside of 10 miles and Gravity Island reopens.
If Gravity Island must shut down for the rest of the day due to weather, raincheck passes will be issued. Participants must be present to collect their issued raincheck.